Juneau and Cruise Lines Agree to Limit Cruise Ships Starting in 2024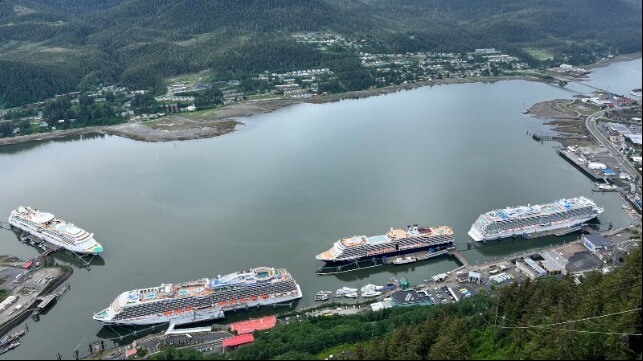 Juneau, Alaska has become the latest popular cruise port of call to agree to limits designed to cap the influx of cruise passengers during the peak season and address complaints from residents about the harmful effects of overtourism. City officials announced an agreement with the Cruise Lines International Association as the 2023 season kicked off with the first cruise ship arrival on Monday, April 17. Critics however question if the effort is enough to manage the influx which they say is overwhelming the small city.
The City and Borough of Juneau and the cruise industry association which represents the major cruise lines signed an agreement that goes into effect with the 2024 cruise season. It formalizes an already established limit of five large cruise ships a day in Juneau without setting a cap on the number of passengers or people coming ashore which other destinations such as Key West and Bar Harbor have also sought to include in their limits.
According to city officials, the threshold of five large ships per day is intended to provide a positive experience for the benefit of both residents and visitors, while providing a reliable market for the many local businesses that rely on the visitor industry, especially cruises. They said it also demonstrates the collaborative partnership that exists between the community and the cruise industry.
"Our work on this MOA recognizes the importance of cooperation, collaboration, and communication made possible by Juneau's leadership. They continually keep the wishes of the community at the forefront of the conversation, while ensuring the cruise industry is still able to deliver a world-class visitor experience in Alaska's capital city," said Renée Limoge Reeve, Vice President of Government and Community Relations at CLIA. "Destination stewardship remains one of our highest priorities.
The calls for the limits grew louder as the cruise industry rebounded from the pandemic. With many travelers seeking to stay closer to home, Alaska continues to be a popular destination and one of the first to return to the record visitor levels experienced in 2019.
Juneau Port Director Carl Uchytil reported that Juneau had 1.2 million cruise visitors in 2022, which nearly equaled 2019 levels. However, last year with the cruise industry still rebuilding operations he reported that the ships averaged only approximately three-quarters of total occupancy. The U.S. Census Bureau sets the popular at approximately 32,000 and on a busy cruise day the city can receive an additional 15,000 or more visitors.
With the 2023 cruise season kicking off this week, all of Alaska including Juneau, as well as the embarkation ports in Seattle and Vancouver are all expecting to set new records. Vancouver reports that its cruise ship calls will be up eight percent to 331 visits this season while Seattle reports 289 cruise ship calls are scheduled.
Juneau receives the greatest number of ships each year. According to CLIA Alaska's published schedule between April and late October, Juneau will see a total of 42 ships with 702 scheduled port calls. Other popular ports such as Ketchikan are scheduled for 649 calls and Skagway has 500 scheduled visits. Forecasts are that Juneau could reach 1.67 million visitors in 2023, up more than 30 percent over previous years.
The 2023 schedule shows that five ships in a day are common during the season. At peak times, Juneau occasionally has six or seven large cruise ships scheduled over the course of a day. The new agreement does not take effect till 2024 because cruise schedules are set well over a year in advance but establishes a cap of five ships per day for Juneau.
"This agreement provides our community with the assurance we need to plan for the future," said The city's tourism manager, Alexandra Pierce. "The visitor industry is vital to our local economy and it's essential we preserve the things that make Juneau an incredible place to live and to visit."
Pierce admitted to local media that many of the city's most popular attractions were already overwhelmed. She said that tour managers, downtown businesses, and city officials will have to figure out new ways to manage crowds and entertain visitors.
A Visitor Industry Task Force (VITF) was established in 2020 to work to identify the issues and respond to the growing calls for residents to manage the number of cruise visitors. In July 2022, they agreed to a series of industry management objectives. The Juneau City Assembly adopted the five ship limit earlier this year and has now formalized it in the agreement with CLIA.