Jaxport Sets New Monthly Record for Container Volumes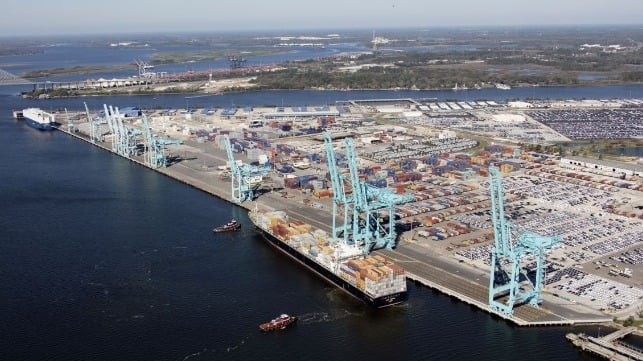 In August, the port of Jacksonville, Florida (Jaxport) set a new monthly container record volume at 115,700 TEU, beating a previous record set in December 2017. Jaxport's container volumes are up 20 percent year–to–date in fiscal year 2018, and it expects to set a full-year record for the second year in a row.
Asian container volumes are a leading contributor to this growth, and are up 10 percent over the year to date. Jaxport offers international services from all three global container alliances, putting it in a favorable position for capturing more business. Jaxport is also the mainland terminus for the U.S.-Puerto Rico trade lanes operated by Crowley, Trailer Bridge and TOTE Maritime, and its Puerto Rican volumes are up by 34 percent over the year to date.
To ensure continued competitiveness as vessel size increases, Jaxport is investing in a long-planned dredging project that will bring its harbor to 47 feet of depth. This will reduce the loading restrictions on larger container vessels calling Jaxport on transoceanic services.
Jaxport logistics conference
Jaxport has released the details for its next Logistics and Intermodal Conference, which attracts logistics professionals and transportation executives from around the U.S. for discussions of the industry's most pressing issues.
The panel topics for this year's conference will include:
- The Political Landscape and its Impact on International Trade: Panelists will discuss U.S. policy on key issues affecting the transportation and logistics industries, ranging from infrastructure spending to trade reform, and potential impacts on international trade.
- Post-Hurricane Puerto Rico and the Path to Recovery: Hurricane Maria devastated Puerto Rico in September 2017 and the island is still recovering. Panelists will provide an update on the island's infrastructure and business recovery as well as challenges impacting trade with the island.
- Where is Finished Vehicle Logistics Headed? : Industry experts will look at how and where global auto production has shifted, and will explore changes to global demand for consumer passenger use and the cumulative impact on ocean carriers, inland transportation providers and ports.
- Business Disruptors and Global Innovation Trends: Panelists will discuss the emergence of innovative disruptors such as artificial intelligence, cognitive analytics and blockchain technology, and their effect on consumer expectations, business models and logistics.
- Update on Ocean Carrier Alliances: Panelists will reflect on the recent realignments and how they are impacting shippers, ports and transportation providers – and will discuss potential changes to come.
The Jaxport conference is scheduled for April 29 to May 1, 2019 at the Sawgrass Marriott resort in Ponte Vedra Beach, Florida. Additional information is available at the conference registration website.