Japan's Navy Works Alongside U.S. Drone Ships in Trials Off Yokosuka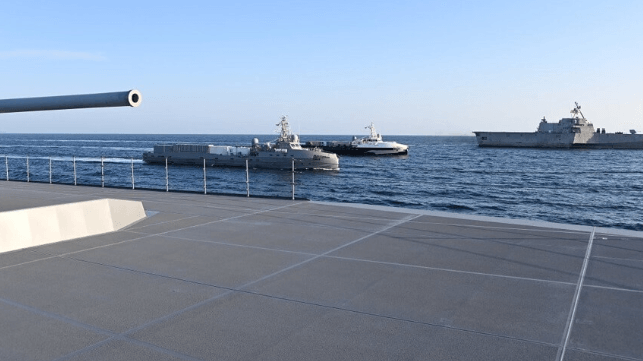 The U.S. Navy's "Ghost Fleet Overlord" unmanned vessels have attracted attention in exercises off Hawaii and the U.S. West Coast, and last week they were spotted in first-of-a-kind drills with Japan's navy near the U.S. base at Yokosuka.
Last Wednesday, the Japanese frigate JS Kumano joined the Independence-class littoral combat ship USS Oakland and the USVs Ranger and Mariner for a series of maneuvers in Sagami Bay. The objective was to work on "tactical capability and interoperability," according to the Japan Maritime Self-Defense Force.
"This is the first exercise for the JMSDF with USV, which the U.S. Navy is testing. Both this ship, our [frigate] and USV that the U.S. Navy owns are the next generation of naval vessels. I believe that the exercise together was a good opportunity to develop new ways to utilize surface vessels in the future and to strengthen cooperation," said Kumano's commanding officer, Commander Izumi Atsushi.
Images courtesy JMSDF
The USVs Mariner and Ranger are crewboat-based test platforms, designed for developing a concept of operations for unmanned vessels in the U.S. fleet. The program - dubbed "Ghost Fleet Overlord" - was developed by Pentagon's Strategic Capabilities Office (SCO) in coordination with the Navy. True to their roots as working vessels, these boats are capable of carrying large payloads on their back decks, including a containerized launcher for the SM-6 multi-purpose missile. This launch system has been tested before, and it could effectively transform the drone boat into an unmanned magazine ship for a U.S. strike group. "One destroyer and two USVs could replace three destroyers. It's a force multiplier," Cmdr. Jeremiah Daley (USN) told the Wall Street Journal last week.
See the game-changing, cross-domain, cross-service concepts the Strategic Capabilities Office and @USNavy are rapidly developing: an SM-6 launched from a modular launcher off of USV Ranger. Such innovation drives the future of joint capabilities. #DoDInnovates pic.twitter.com/yCG57lFcNW

— Department of Defense ???????? (@DeptofDefense) September 3, 2021
A civilian observer spotted Ranger and Mariner pulling into the Navy base in Yokosuka in mid-September. They had made a Pacific crossing all the way from Los Angeles, according to The Japan Times, supervised by a small onboard crew. On arrival, both vessels appeared heavily laden with cargo containers on their back decks, and Mariner was fitted with what appeared to be a second mast and a second radar located at the stern.
A much larger USV, the future Vanguard, is currently under construction at Austal USA. It will have additional range and a larger payload capacity, which are both important factors for any mission in the Western Pacific.