Japan's K-Line Researches AI Systems to Automate Berthing Operations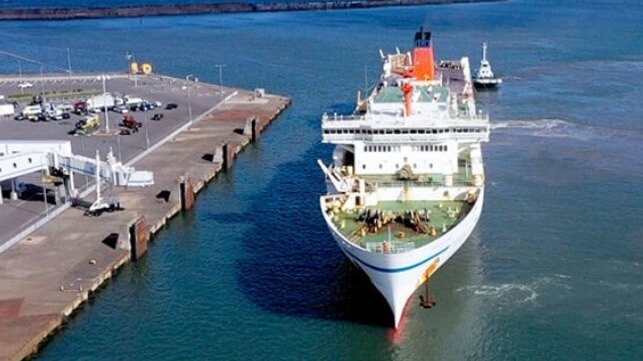 Japanese shipping company "K" Line is developing a system employing artificial intelligence to aid in the maneuvering and berthing operations for vessels. It is the latest in a series of projects underway in Japan to improve safe ship operations and realize autonomous ships in the future.
"K" Line working with its subsidiary "K" Line Kinkai, which operates coastal and shortsea vessels in Japan, will carry out the research and development for the "Safe Berthing/Unberthing Assist System." They look to combine the expertise developed by the two shipping companies with technology being developed by Kawasaki Heavy Industries.
The companies point out that currently, berthing operations in ports require experienced and knowledgeable shipboard crews that are familiar with the characteristics of the ship and its mooring equipment. They are often supplemented by a local pilot familiar with conditions in and around the port.
In their system they look to incorporate the latest technologies, including AI, to assist in safe berthing/unberthing operations. It will be the first system in the world that provides integrated support for all necessary operations from maneuvering in port, berthing/unberthing, and mooring including line monitoring.
"K" Line plans to install the system on domestic vessels operated by "K" Line Kinkai as a testing ground during the research and development. Their goal is to deploy the system by spring 2025.
It will be the latest in a series of projects underway in Japan focusing on aspects of autonomous ship operations. Japan's Ministry of Land, Infrastructure, Transportation and Tourism (MLIT) selected berthing operations in August 2018 as part of its autonomous vessel demonstration project.
A team consisting of Mitsui E&S Shipbuilding Co., Mitsui O.S.K. Lines, Tokyo University of Marine Science and Technology, Akishima Laboratories (Mitsui Zosen), and MOL Ferry Co., is also studying systems to automate berthing operations. In 2021 they demonstrated the first application using an 11,400 gross ton ro-ro passenger car ferry Sunflower Shiretoko, owned by MOL Ferry, for automated berthing and unberthing. They further demonstrated the system in 2022 while a group led by Mitsui working on a project sponsored by The Nippon Institute also conducted automated berthing including using drones for line handling.
The R&D into the berthing system is part of the broader "K"-Assist Project, which aims to further enhance safe ship operations through the integration of expertise in safe operations and advanced technologies currently underway by the "K" LINE group. "K" LINE says it will continue research and development to improve safety even further by providing more sophisticated support for shipboard crews and reducing their workload, as well as to realize autonomous ships in the future.
Faced with challenges including an aging workforce and a dwindling number of seafarers, Japan is placing a high priority on developing autonomous shipping. In addition to the projects focusing on berthing, in 2022 several projects demonstrated autonomous navigation using both ferries and cargo ships in Japan's coastal waters.