Japan Extends Defense Aid to Pacific Nations as Tensions With China Rise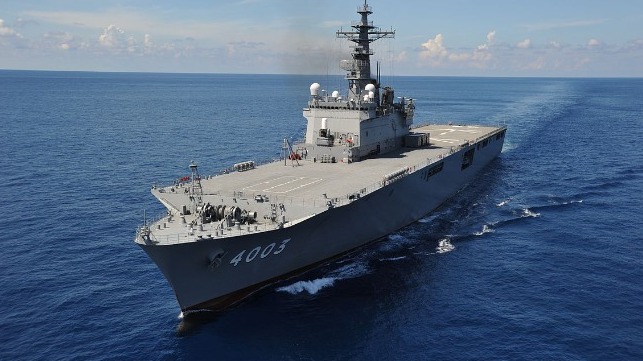 As maritime security threats soar from geopolitical tensions in the Indo-Pacific, Japan has budgeted over $34 million during the 2024 fiscal year as security aid to "like-minded" countries in the region. The funds will be offered under the new defense cooperation framework, dubbed Official Security Assistance (OSA), which the Japanese Foreign Affairs Ministry launched early this year.
OSA has so far received $14 million in initial funding in this fiscal year, with Philippines, Fiji, Bangladesh and Malaysia earmarked as beneficiaries. The government is said to have committed to upping the amount to $34 million by the end of 2024. The goal is to help expand OSA to other countries, such as Vietnam, Indonesia, Papua New Guinea, Mongolia and Djibouti.
Reportedly, the countries have been chosen on the basis of their geopolitical importance to Japan. Some especially from South East Asia are already grappling with China's expansionist activities in the South China Sea. Through OSA, Japan hopes it can achieve a balance of power and prevent China's unilateral attempts to change the status quo by force.
Specifically, the OSA funding is meant to provide equipment and other military assistance to nations Japan considers "like-minded" and friendly. It covers defense assistance not previously offered under the Official Development Program (ODA) that Japan runs in developing nations.
Some of the defense assistance envisioned under OSA funding include provision of satellite communication systems, radar equipment, patrol boats and building of ports for military-civilian use.
With a changing security environment caused by China's assertiveness in the Indo-Pacific and the ongoing Russia-Ukraine war, Japan is transitioning from its pacifist post-war era defense strategy.
This saw Japan's cabinet approve a new National Security Strategy in December last year. The strategy identified OSA as an important platform to bolster Japanese defense capabilities, as well as those of Japan's allies.
Meanwhile, the Japanese Ministry of Defense (MOD) on August 31 requested $52.9 billion for fiscal year 2024, the largest defense budget ever for Japan. Part of the budget will go into boosting Japanese maritime domain awareness.
For instance, the defense ministry said it intends to procure two Aegis-equipped destroyers at an estimated cost of $5.4 billion. Other projects under the budget include modification of the two Japanese Navy Izumo-class helicopter carriers to enable Lockheed Martin F-35B fighter jet operations.