Italy Denies Permission for Migrant Rescue Vessel to Dock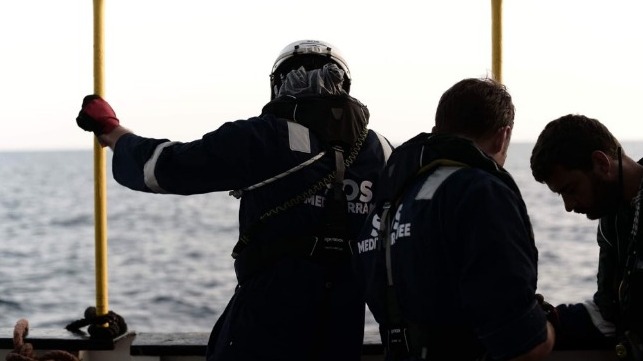 On Tuesday, France's president and prime minister took the newly-elected government of Italy to task for refusing to grant a migrant rescue vessel permission to dock.
The Aquarius, a 250-foot vessel operated by the charity SOS Mediterranee, is waiting off Sicily with 629 maritime migrants on board, including 400 people rescued by merchant ships and Italian government vessels. On Sunday, Italy refused the Aquarius permission to enter a port of refuge to offload the migrants. Matteo Salvini, the minister of the interior and the leader of the right-wing League party, said in a statement that "rescuing lives is a duty, transforming Italy into an enormous refugee camp is not."
The French government issued a pointed response to Italy's decision. "There is a degree of cynicism and irresponsibility in the Italian government's behaviour," said French President Emmanuel Macron through a spokesman. "In cases of distress, those with the nearest coastline have a responsibility to respond."
Malta, which is near the Aquarius' position, also refused the vessel permission to enter port. The island nation has a longstanding policy against allowing migrant rescue vessels to dock. On Sunday, Maltese Prime Minister Joseph Muscat accused Italy of "violating international law" for implementing a similar policy.
Spain's prime minister, Socialist party leader Pedro Sanchez, offered to resolve the impasse by allowing the Aquarius access to the port of Valencia on Monday. "It is our obligation to avoid a human catastrophe and offer a safe haven to these people, fulfilling that way the obligations of international law," his government said in a statement. An Italian Coast Guard ship met the Aquarius at sea on Tuesday to take the migrants on board, and it will carry the migrants to Spain.
Burden on merchant shipping
In a statement issued Monday, the International Chamber of Shipping warned that refusing port access to vessels like the Aquarius could have "serious implications for the safety and welfare of these distressed people, including children and pregnant women."
In addition, port state interference with the work of NGO rescue vessels could force merchant ships to take on a bigger role in responding to maritime migrants in distress, the global shipping association said. Merchant vessels have diverted from their commercial voyages to rescue more than 50,000 people in the Mediterranean since 2015.
"Following the election of the new Italian Government, the crisis now seems to be taking an ever more political direction," ICS said in a statement. "If NGO vessels are prevented from disembarking rescued persons in Italy, this would also have significant implications for merchant ships and the movement of trade throughout the Mediterranean, as merchant ships would again have to become involved in a greater number of rescues."
Shifting domestic politics
Over the past year, Italian public opinion has shifted against immigration. Migrant flows into Italy continue, albeit at a slower rate, and migrant departures from Italy to other European nations proceed at a relatively slow pace due to EU asylum policies. In two polls conducted in September, 46 percent of Italians said that they felt that migration made Italy less secure, and just over half said that their government had not done enough to curb immigration. During the Italian general election this March, the League party and its allies campaigned on a nationalist, anti-immigration platform and won a plurality of seats in Italy's legislature.
On Monday, shortly after Salvini's government denied the Aquarius access to Italian ports, the League party picked up victories in local mayoral elections across the nation. "I'm very happy for the mayors . . . and because we have reached the [mayoral] run-off in cities that have always been hard for us," Salvini said.