Ireland's First Purpose-Built Marine Research Vessel is For Sale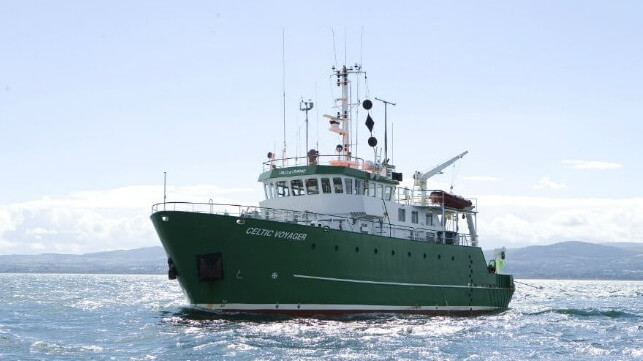 A multi-purpose research vessel that played an essential role in modern-day marine research in Ireland is up for sale after 25 years in service with the Marine Institute. The RV Celtic Voyager, which was Ireland's first custom-built multi-purpose research vessel, has been put up for sale after having played a pivotal role in the country's undersea and marine exploration.
Introduced in 1997, Celtic Voyager is 103 feet in length and was used to replace R.V. Lough Beltra, which had originally been a fishing trawler, before being converted for research. When the Celtic Voyager entered service, she marked the beginning of a new era in marine science in Ireland. The Marine Institute was able to provide a purpose-built platform that could operate further offshore in the country's ocean territory supporting sustainable development of the island's vast marine resources.
For a quarter of a century, Celtic Voyager played critical roles in supporting fisheries research, coastal seabed mapping activities, and national capacity building. Over the period, the vessel facilitated the collection of fisheries, geophysical, oceanographic, and environmental data across the country's waters. She provided wet, dry, and chemical laboratories, which were fitted with standard scientific equipment and could accommodate six to eight scientists depending on the survey. She could stay at sea for a maximum of 14 days.
Since the first seabed mapping survey of Donegal Bay in 2002, the vessel completed 86 hydrographic surveys thus contributing to a comprehensive bathymetric chart of Ireland's offshore and coastal waters and a greater understanding of marine environment. The vessel spent 1,243 days surveying the seabed and completing over 300,000 kilometers of survey lines, mapping over 50,000 square kilometers of Ireland's seabed.
The research vessel also played critical roles in the preservation of shipwrecks in Irish waters, mapping over 200 shipwrecks out of 440 known shipwrecks around the coast of Ireland including the RMS Lusitania. Among the notable surveys carried out by the research vessels was in 2007 when the survey of Galway Bay revealed for the first time a detailed seafloor and geology of the bay, confirming the location of the Galway Bay Fault. The last task of Celtic Voyager was sea-floor mapping in the Celtic Sea with INFOMAR before she retired in July 2022.
"The vessel has served us well over the past quarter of a century, providing marine scientists, researchers, and crew members with many years of experience at sea, and enabling us to deepen our ocean knowledge," said INFOMAR in a statement. They noted that she will also be remembered by multiple generations of marine scientists in Ireland as the first research vessel that many sailed on as students having also served as a training platform.
INFOMAR contends that data collected by Celtic Voyager over the years has benefited all mariners by ensuring safe navigation around the coast, contributing to the blue economy, supporting the development of renewable energy, and enabling sustainable environmental practices, all in support of the country's marine spatial plan.
She was replaced last year by the larger and more capable RV Tom Crean and remains at her dock in Dublin. Instead of scrapping the vessel, the Integrated Mapping for the Sustainable Development of Ireland's Marine Resource (INFOMAR) decided to put her up for sale.