Iran, South Korea Announce Oil & Gas Cooperation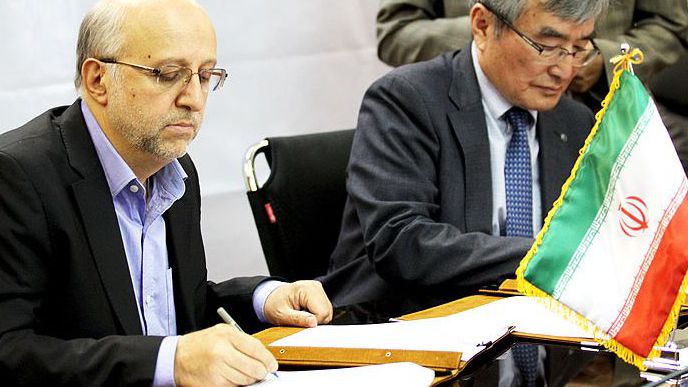 Iran and South Korea have announced multiple new oil and gas cooperation agreements coinciding with South Korean President Park Geun-hye's goodwill delegation to Tehran. But perhaps the most significant bilateral agreement for Korea's maritime economy came in a filing Friday on the Korea Exchange: the financially challenged shipyard Daewoo Shipbuilding & Marine Engineering says that it is close to securing a $1.1 billion deal for five jackup rigs for an Iranian firm, a rare rig construction contract in a market generally characterized by newbuild delays or cancellations.
The news will be welcome to DSME's stakeholders and creditors, notably Korea Development Bank (KDB) and Export-Import Bank of Korea (KEXIM). Korean financial regulators have said in recent weeks that they may need to step in and recapitalize the state development banks in order to facilitate restructuring of the nation's troubled shipbuilders.
Analysts suggest that absent new ordering activity, restructuring may accelerate next year. Overall, Yonhap counts only five orders at Korean yards during the first four months of the year, only about one twentieth of what would be expected in years past, and the existing backlog – while large – will not last indefinitely. DSME and Samsung Heavy have not yet secured any orders to date in 2016 – though DSME says it will construct two Suezmax tankers at its own facilities, rather than at a Romanian subsidiary as originally planned, and would count the vessels as two new orders.
In addition to the good news for DSME, South Korean energy and infrastructure firms appear set to benefit from Iranian partnerships. In Tehran, the National Iranian Oil Company (NIOC) and Korea Gas Corporation (KOGAS) announced that they have signed an MoU to explore development of the Balal offshore gas field – plus an agreement for KOGAS to purchase future Iranian LNG exports, and to participate in the construction of a subsea gas pipeline to Oman.
NIOC Managing Director Roknodin Javadi said that KOGAS would conduct technical studies, and then "present its proposals over the development of Balal project to the NIOC; the proposals will also include the possibility of using the gas from the field to produce liquid natural gas (LNG)."
KOGAS has also reached an understanding with Iranian state energy companies for engineering services for Iran Gas Trunk-Line 9 (IGAT 9, or the Iranian segment of the "Persian Pipeline"), the semi-official outlet Mehr News reports; however, the Fars agency reported less specific agreements related to gas pipeline construction in general.
President Park also announced a financial support package of $25 billion in infrastructure investments in Iran, and the Central Bank of Iran and the Korea Development Bank (KDB) signed an MoU for strenthening of banking ties. The conglomerate Daelim Industrial has also been selected for a $5 billion railway construction project.