International Court Hard for China to Ignore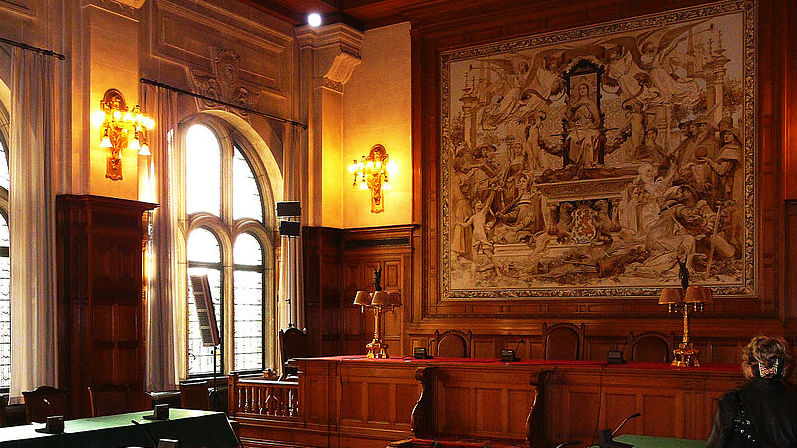 When an international court ruled in late October that it had jurisdiction to hear a case filed by the Philippines against China over the disputed South China Sea, Beijing dismissed the decision, saying it would "lead to nothing".
Philippine officials as well as some foreign diplomats and experts disagree, saying China could come under intensified diplomatic and legal pressure if the Permanent Court of Arbitration in the Hague ultimately decides in favor of Manila.
Legal experts say Manila has a significant chance of success, citing the court's detailed rejection of China's arguments in the hearing on jurisdiction. A final ruling is expected in mid-2016.
Such a judgment would likely be a millstone around China's neck, especially at regional meetings, because it would mark the first time an international court has intervened in the dispute, making it harder for Beijing to ignore, the diplomats and experts said.
Barely noticed when Manila filed the case in 2013 and largely seen as a sideshow since then to the tensions playing out on the waterway itself, some Asian and Western countries have started expressing growing support for the court process.
One expert said if the ruling went against China on key points he would expect to see coordinated positions from Western nations that would keep the pressure on Beijing in bilateral meetings and at international forums.
"Other countries will use it as a stick to beat Beijing with. That's why China is so freaked by this whole issue," said Ian Storey, a South China Sea expert at Singapore's Institute of South East Asian Studies.
Added Bonnie Glaser, a security expert at the Center for Strategic and International Studies in Washington: "That's the dirty little secret here ... the Chinese have pretended that it's going to be easy to ignore and reject. I think in reality they will have to pay an international price for it."
CHINA CALLS CASE "FUTILE"
Manila is seeking a ruling on its right to exploit South China Sea waters in its 200-nautical mile exclusive economic zone (EEZ) as allowed under the United Nations Convention on the Law of the Sea (UNCLOS).
The treaty does not cover matters of sovereignty, but outlines a system of territory and economic zones that can be claimed from features such as islands, rocks and reefs.
China, which claims virtually all the South China Sea, has refused to take part and rejects the court's authority in the case, even though it has ratified UNCLOS. The Philippines, Vietnam, Malaysia, Brunei and Taiwan also claim parts of the waterway.
Any ruling against China would be legally binding but unenforceable beyond political pressure because there is no body to enforce such rulings, legal experts say.
The Permanent Court of Arbitration declined to comment.
China's Foreign Ministry on Tuesday reiterated that Beijing would not accept any decision imposed on China. On November 24, it said the case was a "futile attempt to deny China of its territorial sovereignty in the South China Sea".
Michael Wesley, a professor in international affairs at the Australian National University, said China would not feel bound by any ruling.
"The South China Sea is a classic example of how China thinks about, and is probably succeeding in, rejecting and displacing U.S. primacy in the region, without really risking (major) conflict," he said.
GROWING INTERNATIONAL INTEREST
To many diplomats, the case is key to getting China to accept international legal norms over the waterway, through which $5 trillion in ship-borne trade passes each year.
A number of countries have requested to observe the Hague proceedings, including claimants Vietnam and Malaysia as well as Japan, Thailand, Singapore, Australia and the United Kingdom.
Washington has backed the court process while during a visit to Beijing in October, German Chancellor Angela Merkel suggested China go to international courts to resolve its rows over the South China Sea.
After talks in Sydney on November 22, the foreign and defense ministers of Australia and Japan said they supported the right of South China Sea claimants to seek arbitration.
By refusing to take part in the process, China has forgone the opportunity to formally defend its claims, shown on Chinese maps as a nine-dash line stretching into the maritime heart of Southeast Asia.
Manila is challenging the legality of the line, as well as China's actions within it.
By getting a ruling on its right to exploit waters within its EEZ, Manila hopes to force China to retreat from several shoals and reefs within the zone.
Diplomats and oil industry sources said international energy lawyers would scrutinize the final ruling to see if it clarified rights in contested blocks off the Philippines and Vietnam.
Hanoi made a submission to the Permanent Court of Arbitration in support of Manila's case but has not launched its own action against China. The Vietnamese government did not respond to a request for comment.
Indonesia's security chief said last month that Jakarta could take Beijing to court over the nine-dash line.