Installation Begins at Largest Offshore Wind Farm, UK's Dogger Bank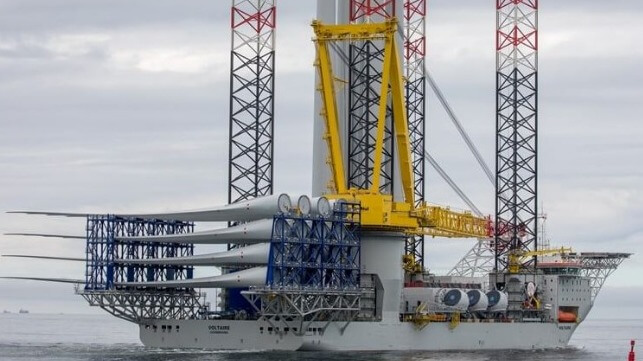 Offshore installation work was scheduled to begin at the end of this week on the world's largest offshore wind farm, the UK's Dogger Bank site. When it is completed in 2026, the project is expected to produce 3.6 GW of electric power compared to the current largest project in operation which provides 1.4 GW of power.
The commencement of the campaign to install the first of the 277 GE Renewable Energy's 13MW Haliade-X turbines, one of the largest and most powerful turbines in the world, is being billed as a pivotal moment for the project. Work is beginning approximately 80 miles off the coast and each of the turbines will stand 850 feet. Seeking to emphasize the enormity of each turbine, the company highlights that each turn of the 350-foot blades will produce enough energy to power an average UK home for two days.
"Dogger Bank is one of the biggest and most complex engineering and infrastructure projects anywhere in the world," said Alistair Phillips-Davies, CEO of SSE which is the lead operator for the development and construction of the Dogger Bank Wind Farm. "It is action, not ambition, that will secure our energy future and this project shows action on a massive scale. But we will need many more Dogger Banks to achieve our goals and we look forward to working with the government to bring forward more projects at pace."
SSE is working in conjunction with joint venture partners Equinor and Vårgrønn. Equinor will be the lead operator of the wind farm on completion for its expected operational life of around 35 years. Vårgrønn is bringing specialist offshore wind expertise to the project, while Jan de Nul won the assignment for the installation work.
SEE highlights that construction on this scale in the challenging conditions of the North Sea is unprecedented and that the project has already delivered several world-firsts that will significantly accelerate the speed at which future offshore projects can be developed. These include the deployment of new 13MW and 14MW turbine technology, the world's first unmanned offshore High Voltage Direct Current (HVDC) substation platform, and the first use of HVDC technology on a UK wind farm.
The installation vessel, Jan de Nul's Voltaire, the largest offshore jack-up installation vessel ever built, is leading the offshore work. Built in China, and delivered in December 2022, it is the world's tallest jack-up vessel with nearly twice the deck space of the company's previous largest vessel.
Dogger Bank has been positioned as a cornerstone of the UK's next phase of offshore power development. The UK has ambitious targets to increase offshore wind fivefold to 50 GW by 2030.