Indonesian Warship Catches Fire and Evacuated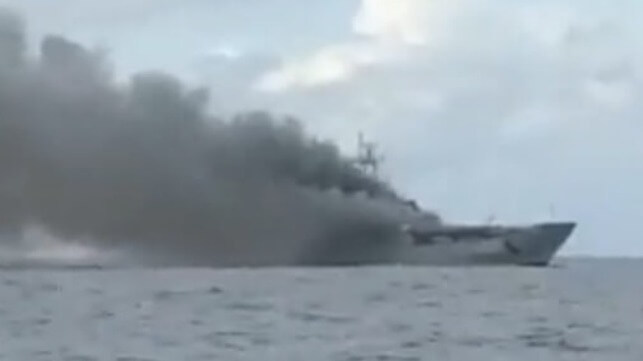 An Indonesian warship reportedly on a normal patrol caught fire midday on Saturday, June 3. The Indonesian Navy is confirming the reports saying that there were no injuries among the 119 crew and sailors aboard the vessel.
The ship is the Hading Bay-538, a Frosch-I/Type 108 landing ship outfitted with a forward landing ramp. The vessel, which was commissioned in 1978 by the former East German Volksmarie, initially operated as Cottbus and after the reunification of Germany was declared surplus. Indonesia acquired the vessel in 1993.
Foto-Foto KRI Teluk Hading 538 yang Terbakar di Perairan Selayar, Sulsel Sekitar 8 Nautikal Mil dari Pelabuhan Bira Bulukumbahttps://t.co/Ty0XzVGgCY pic.twitter.com/EEvRLP9lxa

— Daeng Info (@Daeng_Info) June 3, 2023
The Navy reports the vessel was approximately 11 nautical miles east of the Selayar Straits and seven nautical miles from the island of South Sulawesi when the fire was reported. It is unclear when the fire began but reports reached shore at 14:15 local time. The Navy said that five vessels were immediately dispatched to assist.
A Navy tugboat, Bahtera Zalfa, was also in the area and immediately went to the vessel to assist in the evacuation. Pictures show the crew of the Hading Bay-35 mustering in lifejackets on the forward section of the vessel. Large clouds of smoke are seen billowing from the aft portion of the vessel.
Two commercial vessels, the Golden Ace (52,300 dwt) an Indonesia-registered bulk carrier, and the Green Wave (22,350 dwt) a Singapore-registered containership, were also in the area. Both vessels diverted to the Hading Bay-538 to provide assistance.
?? BREAKING??

Indonesian Navy #TNIAL Frosch-Class LST, KRI Teluk Hading (538) caught fire in waters of the Selayar Islands, South Sulawesi

Navy Spox said all 117 personnel on board were safe and the ship is currently being towed ashorepic.twitter.com/NNj0EEWyfN

— JATOSINT (@Jatosint) June 3, 2023
KRI Teluk Hading Terbakar di Perairan Bira Sulsel

Kapal Perang Republik Indonesia (KRI) Teluk Hading 538 milik TNI Angkatan Laut (AL) dilaporkan terbakar. Titik kebakaran kapal berada di antara Perairan Bira, Bulukumba Sulawesi Selatan (Sulsel) dengan perairan Kepulauan Selayar. pic.twitter.com/OfZiO4LwYj

— Indonesiadailynet (@indo_dailynet) June 3, 2023
Briefing the media, First Admiral and Head of the Naval Information Service Wira Hady Arsanta said it had been an orderly evacuation. He said the crew was well-trained for emergencies and the process went quickly. He said everyone was off the vessel in about 30 minutes with no injuries reported.
The Navy said that it is unclear on the chronology of events and the cause of the fire at this time. They have already begun an investigation.
A tugboat secured the Hading Bay-538 and was towing it to the nearest port.