In 2020, One of the World's Longest Vessels Will Be a Fish Farm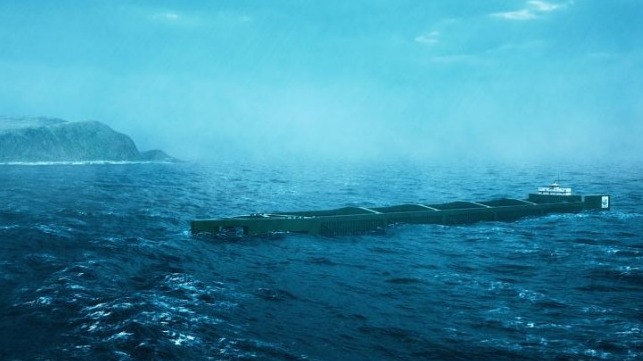 Norwegian aquaculture company Nordlaks is building one of the the world's largest vessels by length, a gigantic moored fish farm platform dubbed Havfarm1. In February, Nordlaks signed a contract with Chinese yard CIMC Raffles to build the semi-catamaran design at its yard in Shandong Province. Its hull design measures 430 meters long, enough to make it one of the longest vessels in the world.
According to Nordlaks spokesman Lars Fredrik Martinussen, the firm is on track to begin operations with Havfarm in the second quarter of 2020. On Monday, aquaculture equipment supplier Selstad announced that it had receved a contract from Nordlaks for the Havfarm's fish nets, winches and other gear, suggesting that the project is making progress towards completion.
The facility is designed to accommodate up to 10,000 tonnes of salmon at a time, divided into six separate mesh pens of 50 meters square by ten meters deep. The structure is built for wave heights of up to 10 meters and can be raised an additional four meters if needed during foul weather.
When installed at its offshore anchorage, Havfarm will have much more area in which to disperse the waste products associated with fish farms. It will also be more resistant to sea lice infestation than conventional installations, according to designer NSK.
The first Havfarm will be located at a site south-west of Hadseløya, Norway, an area that Nordlak says has been impossible to use for aquaculture up until now. Thanks in part to a successful appeals process, Nordlak has obtained 21 licenses from the government of Norway for the project.
[Video in Norwegian]