Hyundai Merchant Issues RFP for 20 Mega-Ships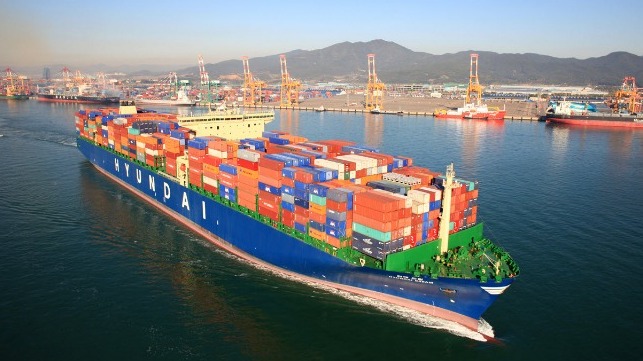 Hyundai Merchant Marine has begun issuing RFPs to shipyards for the construction of a new fleet of 20 boxships, including one dozen 20,000 TEU-plus ships for the Asia-Europe trade and eight 14,000 TEU ULCVs for Asia-U.S. East Coast routes. The new tonnage will put South Korea's only global carrier over the one million TEU mark for total fleet size, enough to place it in the ranks of the top ten ocean carriers by capacity.
HMM first announced its intention to place the orders last year, and in a statement Tuesday it said that it is moving to select a shipbuilder now because prices are rising. "Considering the factors including the recent increase in new shipbuilding price and dock availability, HMM will start a selection of shipyards by sending out its Request for Proposal (RFP) to shipbuilding companies on April 10," the firm said.
HMM says that the ships will be fitted with either LNG-fueled engines or scrubbers in order to meet upcoming IMO environmental requirements. It expects to take delivery of all 20 vessels before 2020, in time for the implementation of the 0.5 percent sulfur fuel content cap.
Government backing
The construction of the new fleet will be underwritten by the Korean government in the form of loans and guarantees from the Korea Ocean Business Corporation (also known as the Korea Maritime Corporation, KMC, or Korean Maritime Promotion Corporation, KMPC). The newly-formed financing agency is intended to "support the shipping and shipbuilding industries grappling with a protracted slump, intense competition and environmental regulations," according to oceans and fisheries minister Kim Young-Choon. It will begin its financing activities in July.
At a sales meeting last December, HMM president and CEO C.K. Yoo explained the rationale for the purchase in terms of national ambition. "This will be the mega-ship building project in accordance with the national expectation for being a leading shipping nation," he said. "During the last year, HMM has faced many changes such as regaining customer trust, recovering profitability, and ranking #1 in service reliability [and] I would like to extend my sincere gratitude to people of Korea for supporting HMM."
That support included a valuable sale-leaseback transaction with the Korean government, which HMM completed last March. HMM had ten ships originally valued at $740 million on its books, but their market value at the time was about $130 million. Accounting rules would normally require HMM to book an impairment against its earnings for the $610 million decline in their worth. Instead, HMM sold them to government-backed entity Korea Shipping Co. for $220 million plus $520 million in bonds - a total of $740 million, equal to their original value - and then leased them back for continued operation.
This bailout was a "representative" example of Korea Shipping Co.'s purpose, according to a spokesman. A spokesman for Korea Shipping Co. told Chosun that "Hyundai Merchant Marine was not only the most urgent situation, but also a representative [situation], so we applied for it first. We will also endeavor to support small- and medium-sized shipping companies in the future," the spokesman told Chosun.