Ship Carrying USS McCain Diverts to Subic Bay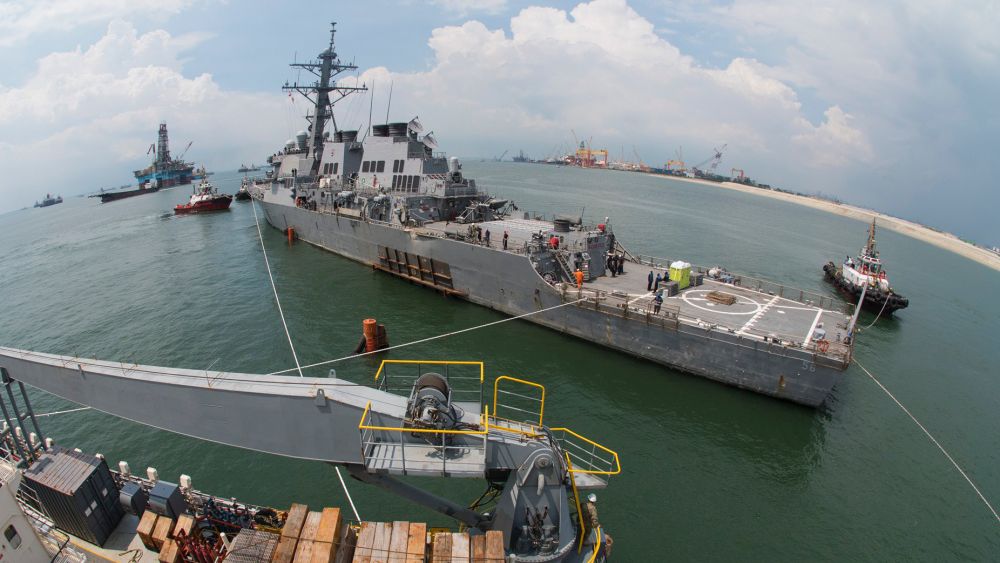 The U.S. Navy has rerouted the heavy lift ship Treasure to the Philippines after discovering that her cargo, the damaged destroyer USS John S. McCain, has developed a four inch hull crack. AIS data showed the Treasure anchored in Subic Bay on Monday morning, just off the docks of HHIC, the largest shipyard in the Philippines.
7th Fleet confirmed to USNI News that the McCain has developed a new crack, located amidships on the starboard side, and said that it was discovered while under way. This additional hull damage – combined with heavy weather from Typhoon Lan, which has just made landfall in Japan – forced Treasure to divert to Subic Bay. Salvors will examine the crack and determine if additional repairs are required before the journey resumes.
"MV Treasure had already slowed because of the storm, and pulling in allows inspection of the small crack while the weather improves," 7th Fleet spokesman Cmdr. Clay Doss told USNI.
On the morning of August 21, the McCain was involved in a collision with the merchant vessel Alnic MC while underway off Singapore. Significant damage to the McCain's hull resulted in flooding to multiple compartments, including crew berthing, machinery and communications areas.10 sailors were killed and five were injured.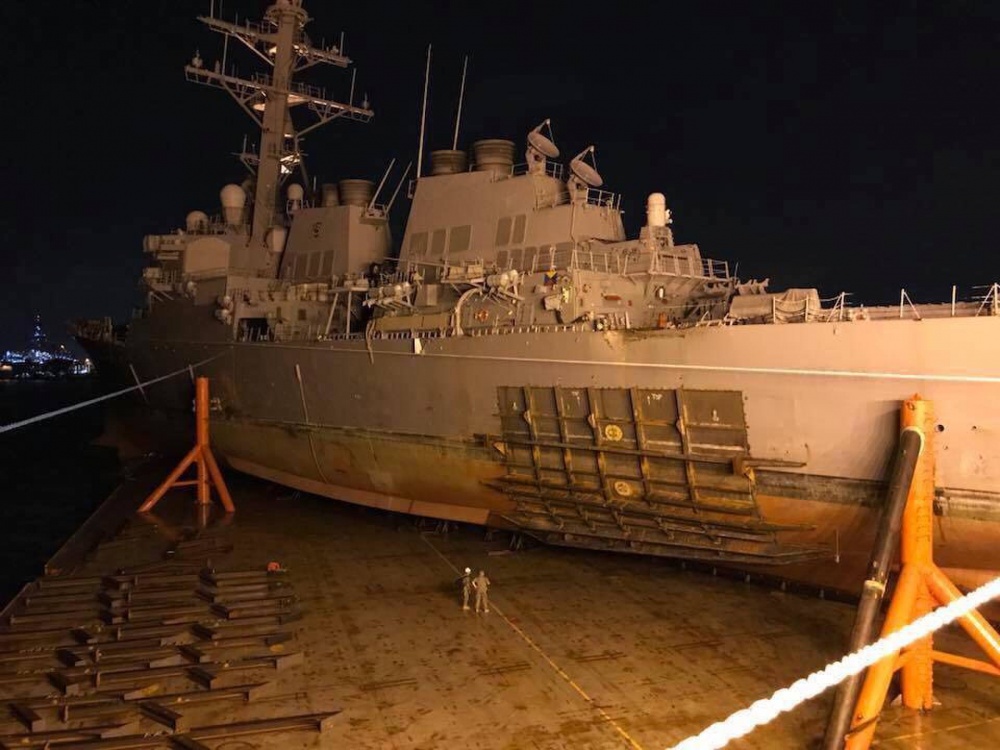 The Navy has determined that it has the capability to repair McCain at its own Seventh Fleet dockyard in Yokosuka, Japan, saving the time and expense of shipping her across the Pacific to a yard in the mainland United States. The Treasure began loading operations on October 6, with support and supervision from the Navy's SUPSALV marine salvage team. The Treasure deballasted to lift the destroyer out of the water, and on October 11, after all lashings and final checks were complete, she got under way for Yokosuka. The Navy had expected Treasure to arrive in Japan at the end of the month, but the unscheduled stop in Subic Bay will likely push back the timeline.