Harbor Tug Runs Aground Outside Corpus Christi Ship Channel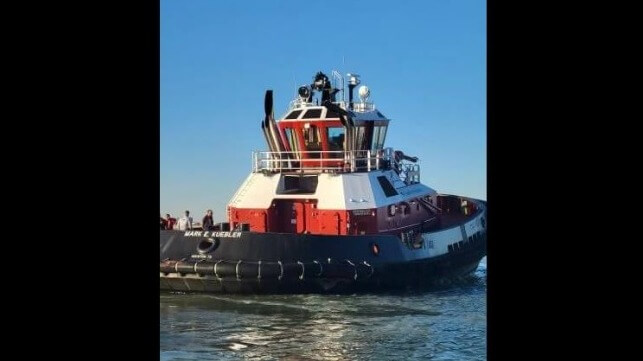 A harbor tug has reportedly run aground after a collision near the South Texas Gateway terminal, located on the Corpus Christi ship channel.
At 1600 hours on Sunday, Coast Guard Sector Corpus Christi received a call from the agent of G&H Towing, a provider of ship assist and harbor towing at ports along the Texas coast. The agent reported that the tug Mark E. Keubler had gone aground outside the channel near Ingleside's South Texas Gateway terminal, and the vessel was taking on water.
The Coast Guard dispatched a response boat to help out with dewatering the tug and issued a marine safety broadcast to alert nearby shipping. When the boat crew arrived, they began helping out the crew of the Keubler with dewatering.
Before the tug went aground, it was reportedly in a collision with the Saudi-flagged bulker Nisalah.
No injuries or pollution have been reported, and the U.S. Coast Guard has pollution responders on scene to monitor the salvage operation.
As of Monday, the Nisalah remained in port at a tank terminal in Ingleside. The Keubler was still aground at a position adjacent to the shipping channel, attended by the tug Juno.
Mark E. Keubler is a powerful 6,800-horsepower Z-drive tug constructed by Gulf Island Fabrication for Bay Houston Towing, a division of G and H Towing.