Hanwha Acquires Control of HSD Engine to Enhance Shipbuilding Position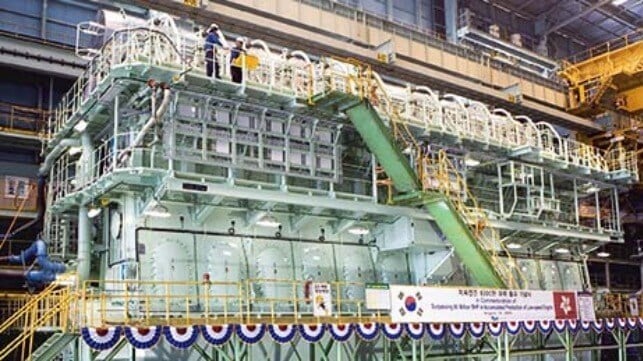 South Korean conglomerate, the Hanwha Group, is moving quickly to consolidate its position in the shipbuilding industry to provide a total ship manufacturing solution while also preparing for the emergence of future alternative fuels. On Thursday the company signed an agreement to acquire a controlling stake in HSD Engine, a South Korean company specializing in ship engines.
Hanwha reached terms for this acquisition less than two months after completing a deal to recapitalize Daewoo Shipbuilding & Marine Engineering taking over management control of the struggling shipbuilder. Hanwha highlights this latest the move as part of a strategy to build a value chain from ship manufacturing to engine production and also giving it a future competitive advantage for future eco-friendly engines for ships.
Under the terms of the agreement, Hanwha will purchase 19 percent of the outstanding stock of HSD Engine and will also provide for a capital increase acquiring an additional 14 percent of the company in the form of newly issued stock. All told, they will acquire a third of the shares of the company in a transaction valued at approximately $175 million.
A forty-year-old company, HSD which was also known as Doosan Engine is recognized as one of the leaders in the field maintaining strong relationships with MAN. The company's business portfolio includes low and medium speed marine diesel engines for large ocean-going vessels as well as diesel engines for electric power generation. They also build and maintain diesel-fired power plants.
"By adding HSD's engine manufacturing capabilities to eco-friendly power generation technologies such as hydrogen-fueled gas turbines, Hanwha will be able to preemptively respond to international decarbonization regulations such as dual-fuel engine production," the company writes in its announcement.
The transaction is designed to enhance Hanwha and DSME's market competitiveness in terms of both the delivery and price as well as strengthening the maintenance capabilities of the business. They also plan to integrate HSD with other elements of Hanwha's business group including a gas turbine remodeling business as well as the company's power systems which has industrial air and gas compression technology.
At the end of 2022, it was reported that Hanwha had entered the bidding for another South Korean engine manufacturer STX Heavy Industries. It was reported to be in it in competition with HD Hyundai, the parent of Korea Shipbuilding & Offshore Engineering, as well as HSD, and several private equity funds.
Hanwha said it plans to start due diligence next week on HSD. They are targeting signing the main contract around April, and finalize the acquisition in the third quarter after reviewing the business combination approval.