Gulftainer Nears Deal for Port of Wilmington Privatization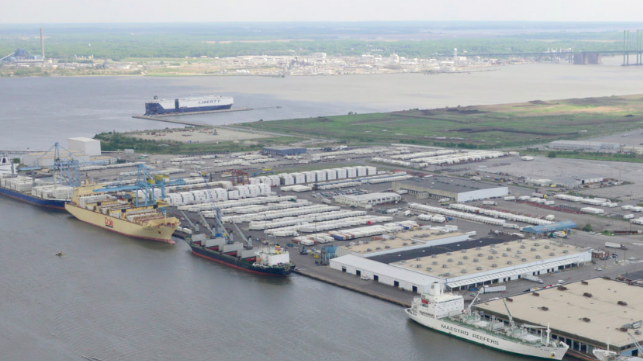 On Tuesday, Delaware's legislature approved a plan to privatize the Port of Wilmington and lease it to UAE-based ports firm Gulftainer.
The agreement has already been approved by the Diamond State Port Corp., the publicly owned entity that currently operates the facility, and it has the endorsement of Delaware Governor John Carney. "This is a landmark agreement to expand the Port of Wilmington, and to protect and create good-paying, blue collar jobs at one of Delaware's most important employment centers," Carney said in a statement Tuesday.
Under the terms of the agreement, Gulftainer will receive a 50-year lease for the port of Wilmington and will develop a new container terminal on an adjacent state-owned brownfield property. Peter Richards, CEO of Gulftainer's USA division, says that the firm will spend up to $575 million on the new facility and related investments.
The port has been losing money for some time, and the state has been subsidizing it in the amount of about $15 million per year. Under the privatization deal, it will receive at least $6 million per year in royalties. Gulftainer hopes to turn around the port's operations, doubling its TEU volume within ten years, boosting non-containerized cargo by 75 percent and employing thousands of additional workers.
Gulftainer has been working to expand its presence in the U.S. since at least 2014, when it signed a 35-year agreement with Port Canaveral for the operations of a new container terminal. While Gulftainer is owned in the UAE, the Port Canaveral lease agreement did not undergo a review by the Treasury Department's powerful Committee on Foreign Investments in the United States (CFIUS).
Congressman Duncan Hunter (R-CA), the chair of the House Subcommittee on Coast Guard and Maritime Transportation, has called for the Trump administration to examine the Port of Wilmington Gulftainer agreement, citing "national security concerns, including the proximity to critical assets and the necessity to ensure incoming shipments are properly screened and inspected." In a statement, Gov. Carney's office said that Delaware's proposed agreement with Gulftainer is awaiting review and approval by CFIUS.
CFIUS is also reported to be in discussions with Chinese conglomerate COSCO about its proposed acquisition of OOCL, including the Taiwanese carrier's busy Long Beach Container Terminal (LBCT) on the U.S. West Coast. Given CFIUS' reported concerns about a Chinese state-owned enterprise controlling a key U.S. import facility, the discussions may result in the sale of LBCT to a third party.