Grounded Tanker Breaks Up off Kaohsiung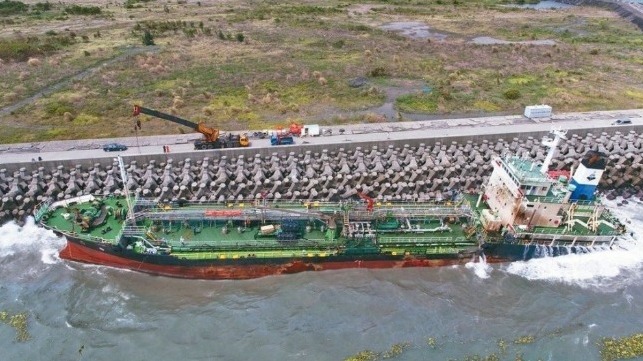 The product tanker Shine Luck, which grounded off Kaohsiung, Taiwan during a storm last week, has broken up.
The 5,000 dwt Shine Luck and a second tanker, the Winner 19, both went aground south of Kaohsiung's commercial seaport on Thursday after strong winds sent them drifting towards shore. The Luck grounded on a hard concrete breakwater about 400 yards from Kaohsiung's Fengbitou fishing terminal, and the Winner grounded on a sandy beach about one nm further to the south. All 32 crewmembers from both vessels were safely rescued.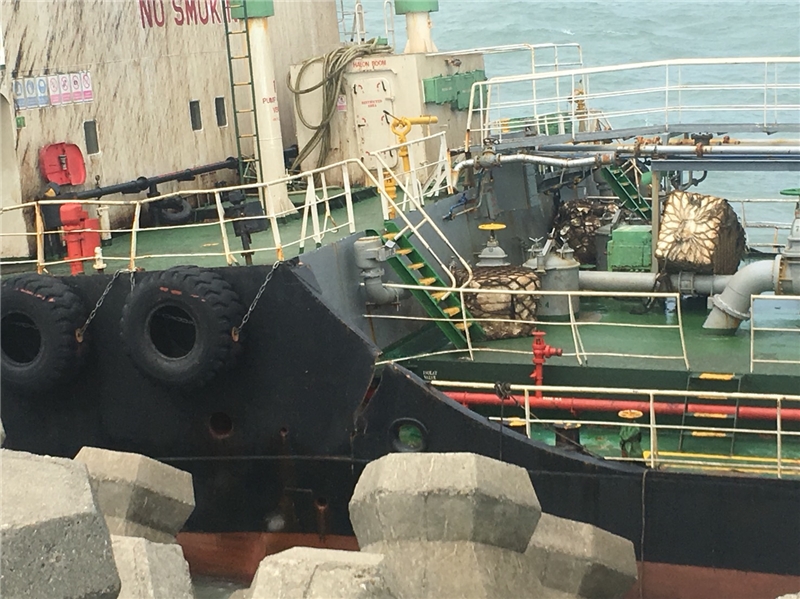 Video from the scene showed waves rocking the Shine Luck against a tetrapod revetment parallel to a seawall. Despite the efforts of salvage crews to stabilize her, she broke up on Monday morning. Salvors managed to offload about 32,000 gallons of fuel oil from her tanks before her condition deteriorated.
Shortly after she broke up, a salvage crew towed her bow section to Kaohsiung's International Container Terminal in order to prevent it from drifting away. According to local media, the Luck's stern remains grounded in place.
Taiwan's Maritime and Port Bureau said in a statement that there is no sign of pollution from the Winner 19, which remains aground and intact. Fuel removal from the Winner was scheduled to be completed on Sunday, weather permitting. The maritime bureau's director Xie Jiejun, called on the ship's owners to begin salvage operations as soon as possible.
[Video in Chinese]