Good Samaritans Rescue Crew of Sinking Longliner off South Africa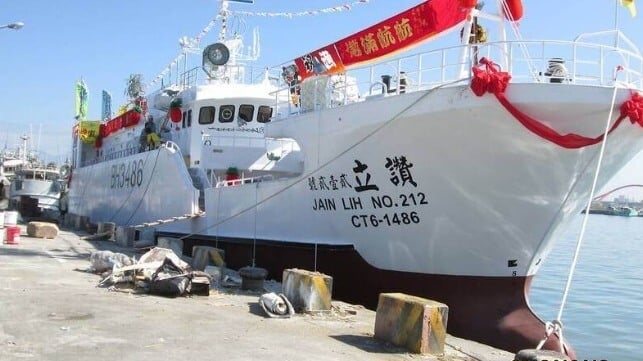 When the crew of the Taiwanese longliner Dehai 66 got into trouble into the Indian Ocean on Tuesday, they were fortunate enough to have two rescue centers working in parallel to bring them aid: South African Maritime Safety Authority (SAMSA) and Taiwan's Tuna Association.
At about 1500 hours on Tuesday, SAMSA's coordination center in Cape Town received word from Taiwanese authorities that the tuna longliner Dehai 66 (or Der Hai 66) was taking on water and in danger of sinking.
The vessel was far off the coast of Durban, about 320 nm away from shore and well out of range of helicopter SAR services. Conditions on scene were winds of about 25 knots and swells of up to 12 feet.
There were several merchant ships in the same region. The bulker Golden Earl was just 35 nm away, and the tanker Red Nova was about 60 nm off. Further away, the LNG carrier Lobita was located at a position about 150 nm to the west. SAMSA asked all three vessels to divert and assist the crew of the stricken longliner.
Meanwhile, the crew of the Dehai 66 were also coordinating a rescue with their countrymen in Taiwan, some 6,000 nm and six time zones away to the east. The stricken vessel's Taiwanese operator diverted another ship from its own fleet in the Indian Ocean, the Dehai No. 6, but it was about 100 nm away. Taiwan's Tuna Association and its Fisheries Department arranged for a nearer vessel, the Zanli No. 212, to divert and assist. The Zanli was just 50 nm off.
The Golden Earl arrived on scene first, but the Dehai 66 had already sunk. The longliner's Taiwanese and Filipino crew had successfully abandoned ship into their life raft, and they were awaiting rescue in the 12-foot swells.
Unfortunately, the seas were too rough for Golden Earl's crew to carry out a safe rescue. MRCC Cape Town asked the bulker to stay on scene in order to be available if further assistance was required.
Zanli No. 212 and Dehai No. 6 arrived at about 0200 on Wednesday morning, and the Zanli safely rescued the survivors from the water. No injuries were reported, and Golden Earl resumed her commercial voyage. Both of the fishing vessels planned to resume fishing after the rescue, not head for port, according to MRCC Cape Town.