Good Samaritans Rescue Crew of American Longliner Off Hawaii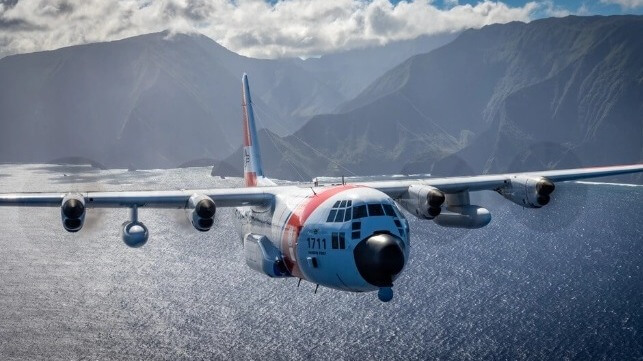 On Friday, the U.S. Coast Guard worked with two good samaritan vessels to rescue the crew of an American tuna longliner on the high seas, far off the coast of Hawaii.
At about 1845 hours on Thursday, Sector Honolulu received a call from the owner of the fishing vessel Sea Smile. He told the Coast Guard's Joint Rescue Communication Center (JRCC) that the vessel was disabled and flooding at a position some 500 nm to the southwest of Hawaii. The crew reported more than five feet of water in the engine room and fish holds, but without power, they were unable to use their bilge pumps for dewatering. The vessel was gradually sinking, and it was well out of range for a helicopter rescue.
The crew prepared to abandon ship, and the JRCC asked the captain to activate his EPIRB. Meanwhile, Coast Guard watchstanders dispatched an HC-130J SAR aircraft out of Air Station Barbers Point. Once on scene, the aircrew dropped two life rafts and two datum marker buoys, along with a radio and other survival supplies.
Watchstanders also used the AMVER System's surface picture tool to identify merchant ships that might be near enough to come to the crew's aid. The Taiwanese tuna longliner Ying Rong 638 volunteered to help, and she arrived at about midnight. The crew safely transferred over, and the Ying Rong waited to meet up with a Honolulu-bound vessel, the Captain Minh. The survivors made a second transfer to the Captain Minh and got under way.
"Anytime you get word that a crew is preparing to abandon ship, you immediately become worried about the time required to reach the survivors," said Cmdr. Marc McDonnell, operations officer for Coast Guard Air Station Barbers Point. "We appreciate the support of the good Samaritans aboard the commercial vessel Ying Rong 638, who made this rescue possible. Given the remote area, this was a complex case, but our crews train for this exact scenario and we are fortunate to say that the training paid off."