Genting's Shipbuilder MV Werften Marks Three Years of Progress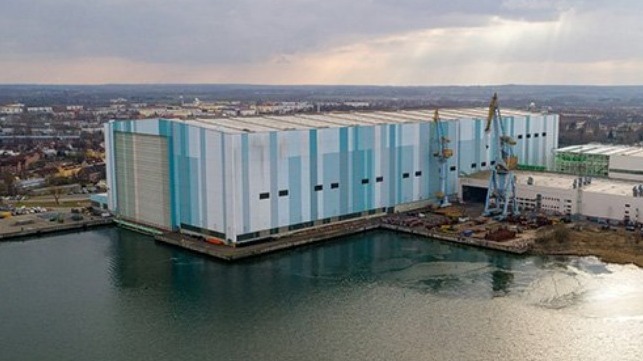 Since March 2016, the former Nordic Yards facilities in Wismar, Rostock and Stralsund have been operating as MV Werften under the ownership of Malaysian conglomerate Genting Group, known best in the maritime world as the owner of Crystal Cruises and Star Cruises. On the occasion of its three-year anniversary, MV Werften held a press conference in Rostock to describe its progress and plans.
From 2016 to 2019, the workforce at the three sites doubled from 1,400 to over 2,800 employees, and the count is expected to rise to about 3,000 people - plus several thousand more contract employees from partner companies. The growth has happened so fast that Genting has redeployed one of its older ships, the 1988-built SuperStar Libra, to provide temporary worker housing at the MV Werften yard in Wismar.
The shipbuilder is in the midst of a $280 million infrastructure investment plan. In Wismar, the quay is being redeveloped to accommodate Genting's new 1,100 foot long Global Class vessels. The first of these ships is for delivery in 2020 and the second in 2021.
"The acquisition of our shipyards is part of the strong strategy of [Genting], which now has its ships built on its own shipyards," said CFO Carsten J. Haake. "It recognized the need to renew the infrastructure and has demonstrated willingness to invest."
At the Rostock yard, one of the most modern laser welding systems in Europe has been installed and has been in operation now for three months. MV Werften is also building its own cabin units through sister company Fertigmodule, and it is operating its own hotel in Wismar.
"Over the last three years, our staff has been built up and we have invested in equipment at an impressive speed . . . and four ships have already been delivered," said CEO Peter Fetten. "In the history of shipyards in Mecklenburg-Vorpommern, this is unique."
Genting formed MV Werften in 2016 after acquiring Nordic Yards' facilities in Wismar, Stralsund and Rostock-Warnemünde. Nordic Yards traditionally focused on specialty vessels, including ro/pax, specialized offshore supply vessels and platform equipment, and wind farm service vessels; its transition to cruise shipbuilding is part of a trend among specialty European yards in response to the offshore sector's decline. Genting also owns Bremerhaven-based Lloyd Werft, which focuses on cruise ship repairs and superyacht construction.