Freedom-Class LCS Suffers Another Propulsion Casualty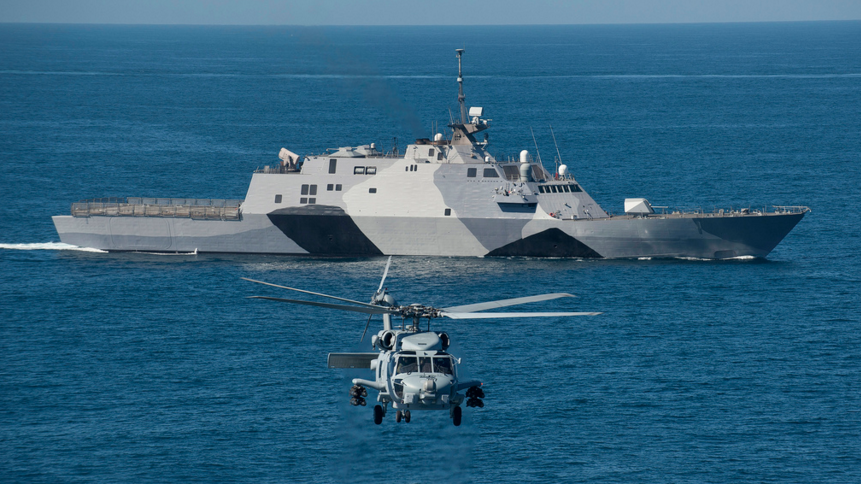 The U.S. Pacific Fleet said in a statement Sunday that the lead ship in the Freedom class of littoral combat ships had suffered a major engine casualty due to a leak from a seawater pump.
The saltwater from the attached pump penetrated into the #2 diesel engine's lube oil system; the crew took action to stop the leak, and worked to decontaminate the engine while in port for a separate, unspecified problem. The USS Freedom then sailed again on its turbines from July 19 to July 28 for the Rim of the Pacific exercise. The compromised engine did not undergo a full examination by the Southwest Regional Maintenance Center's Diesel Engine Inspector until August 3, more than three weeks after saltwater entered its lube oil system.
The inspector found "significant damage to the engine caused by rust and seawater," and it is expected that "Freedom's #2 [diesel] will need to be removed and rebuilt or replaced. The cost and timeline for the repair of the engine are unknown at this time."
An investigation is under way to determine whether mechanical failure or crew error was the primary cause of the casualty.
"Given the engineering casualties on USS Freedom and USS Fort Worth, I believe improvements in engineering oversight and training are necessary," said Vice Adm. Tom Rowden, commander, Naval Surface Forces. He added that a recently completed review of the LCS program would enable the service to "make immediate changes to help reduce chance for future operator error."
This is the third major propulsion casualty on a Freedom-class LCS in a year. The USS Fort Worth's propulsion combining gears were damaged in Singapore eight months ago when adequate lubrication was not applied during startup. Her commander was relieved following the casualty.
Separately, the USS Milwaukee's combining gear was damaged in December when a clutch did not properly disengage during switching over from turbine to diesel propulsion.
In addition, USS Freedom had early difficulties with two of four electrical generators, which overheated and shut down during its initial deployment in the Western Pacific in 2013.
The LCS program has been controversial for years; opponents contend that the ships are too lightly armed and armored to perform in a warfighting environment. In response, the Navy has developed an up-armored version reclassified as a frigate.
Shipbuilder Lockheed Martin has delivered four of the Freedom-class vessels with two more hulls already launched, three under construction and three more in pre-production.