France, Fincantieri Reach Agreement on STX France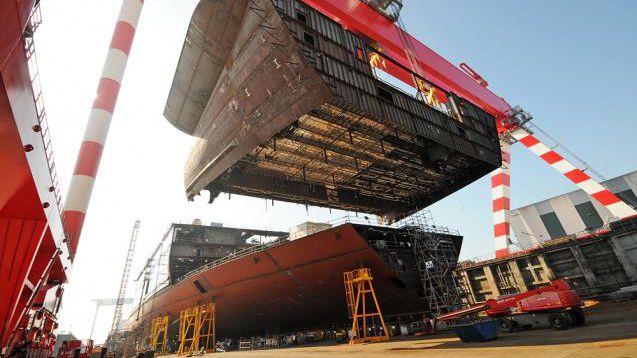 The French government has reached an agreement with Fincantieri that paves the way for the sale of STX's 66 percent share in STX France, the giant defense, specialty and cruise shipyard at Saint-Nazaire.
France has a 33 percent stake in STX France, and it holds the right to approve or refuse the sale of STX's majority share. STX is selling off the St. Nazaire yard as part of its bankruptcy proceedings, and Fincantieri is the preferred bidder.
For months, the French government has insisted on "a multiple shareholder solution" that would not hand the Italian shipbuilding giant a majority share in France's largest strategic naval yard. In the agreement announced Thursday, Fincantieri will take a 48 percent stake and will become the "shareholder of reference." France will retain its minority share; government-controlled defense contractor DCNS will take 12 percent; and the Italian investment firm Fundazione CR Trieste will buy the final seven percent.
In addition, France will retain the ability to veto any significant reorganization, intellectual property transfer, partnership or acquisition abroad, and any strategy that is not consistent with the interests of French national defense. Fincantieri is prohibited from acquiring a majority stake for at least eight years, and if Fincantieri should decide to sell its stake, France has the right of first refusal.
French deputy industry minister Christophe Sirugue had suggested that nationalization would be on the table as a backup option, but he emphasized that STX France should remain a privately owned entity in order to maintain relationships with private clients. On Thursday, Sirugue said that the long negotiations with Fincantieri had been challenging, but he described the outcome as a success. "We have always believed that the right partner would be a European industrial group and we made our conditions clear: strengthening the core business of the Saint-Nazaire shipyard and cruise ship activities; moving forward with diversification in marine energy; [and] specific commitments to the long-term existence of the site and its work, to investments, to maintaining and expanding employment," he said.
Union leaders at Saint-Nazaire expressed ambivalence after the news of the acquisition. "In reality, we were bought by Norwegians, then by South Koreans and finally by Italians and that did not really change the situation because the direction is always the same," said Sébastien Benoit, the head of union CGT, speaking to Le Parisien. The yard has 2,600 employees, plus an additional 5,000 subcontractors.