Former Flag Officer Censured as GDMA Scandal Continues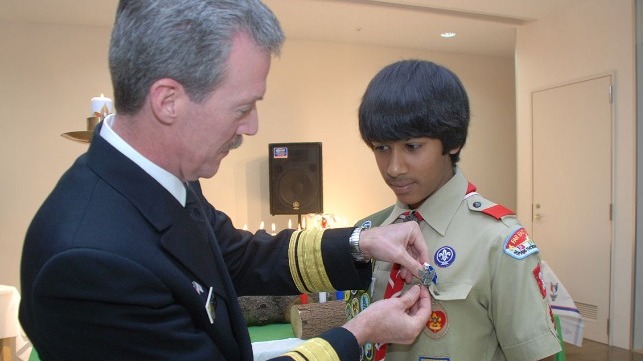 This week, U.S. Secretary of the Navy Richard Spencer issued letters of censure to three officers for past misconduct related to a sprawling bribery and fraud case. Spencer censured Rear Adm. Richard Wren (ret'd.), Capt. Timothy Conroy (ret'd) and Capt. Charles Johnson, based on findings regarding improper interactions and acceptance of gifts from the port services contractor Glenn Defense Marine Asia (GDMA). The censures do not have an effect on their pay or retirement benefits.
Spencer censured Rear Adm. Wren for allegedly accepting gifts from GDMA from 2007-2010 and for making false statements to mislead investigators. In addition, given the nature and circumstances of the unspecified gifts, Spencer determined that Rear Adm. Wren had engaged in conduct unbecoming of an officer.
Rear Adm. Wren served as commander of the USS Kitty Hawk Strike Group and as commander of U.S. Naval Forces Japan during the period in question.
The letters of censure for Captains Conroy and Johnson were similar, except for the allegation of false statements, which was not contained in Capt. Conroy's letter.
"It is incumbent that naval officers, particularly those placed in positions of great trust and responsibility, be held to the highest standards of both personal and professional behavior. Rear Adm. (Ret.) Wren, Capt. (Ret.) Conroy and Capt. Johnson, while serving in such positions, each disregarded those standards and engaged in conduct that reflected unethical and improper personal behavior and set poor standards of leadership," Spencer said in a statement. "Each officer's conduct is an embarrassment to the thousands of officers, Sailors and civilians who do the right thing every day."
Federal prosecutors contend that GDMA influenced Navy personnel with bribes, gifts and services in exchange for assistance in obtaining Navy business and overcharging the Navy for services rendered. For one particular port call at Kota Kinabalu, GDMA executives admitted to overbilling the Navy an extra $840,000 for $400,000 worth of goods and services. The total losses to the Navy exceeded $34 million as a result of the long-running scheme.
GDMA's owner, Glenn Leonard "Fat Leonard" Francis, has pled guilty to corruption and fraud charges and is cooperating with federal investigators. The Justice Department has secured 20 guilty pleas in connection with the sprawling case, including an unprecedented plea from a flag-level officer. Many of those charged admitted to receiving luxury hotel stays, transportation, gifts, entertainment and the services of prostitutes in exchange for providing sensitive information to GDMA. Including the servicemembers who have been charged in connection with the case, investigators say that over 440 current and former military personnel have come under scrutiny. It is believed to be the largest bribery case in the Navy's history.
Contract officer disclosed bids
Authorities in Singapore have charged a Singaporean national who once worked for the U.S. Navy with taking bribes from GDMA in exchange for sensitive contract information.
Sharon Rachael Gursharan Kaur, 57, admitted to receiving about $100,000 over a five-year period from Leonard Glenn Francis while she was employed as a U.S. Navy lead contract specialist. In return, she provided GDMA with non-public, sensitive data, including the bid prices submitted by Francis' competitors for Navy contracts. The leaks covered 16 contract tenders; GDMA bidded on 14 and secured 11, winning a total of about $48 million in Navy business. Kaur has pled guilty to three charges of corruption and faces sentencing on July 6.