Fishermen Water Cannoned in South China Sea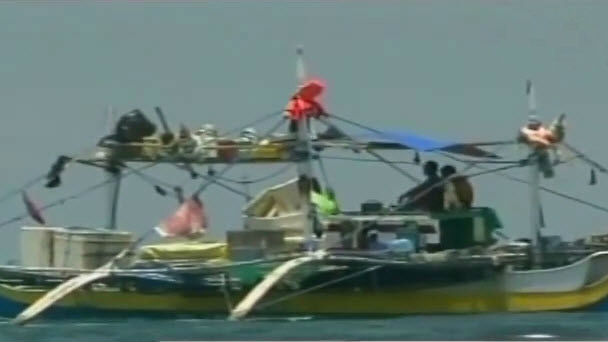 Filipino activists denounced China's coast guard on Tuesday for turning water cannon on Philippine fishing boats in disputed waters, near where hundreds of Filipino and American Marines landed on a beach in a mock assault.
The presidential palace in Manila said China's coast guard used water cannon on Monday to drive away a group of Filipino fishermen at Scarborough Shoal, damaging some of their wooden boats. Chinese ships rammed a fishing boat in the area a few months ago.
China in 2012 took control of Scarborough Shoal, about 130 miles (210 km) west of a former U.S. naval base northwest of Manila, preventing Filipino fishermen from getting near the rich fishing grounds.
"China has no right to use water cannon on the poor fishermen," Renato Reyes, secretary-general of left-wing activist group Bayan (Nation), said in a statement, while criticizing the government's dependence on the U.S. military to protect the country.
"To stand up to China, we need to develop our economy and our capacity for external defense," Reyes said. "We can't do this by hanging on the coattails of Uncle Sam."
In Washington, U.S. State Department spokeswoman Marie Harf said the department could not independently verify China had used water cannon but said that, if confirmed, it would be a "provocative act" and a "step backward" for efforts at a diplomatic solution.
"Countries should not use force or coercion to support disputed territorial or maritime claims," Harf told reporters.
One fisherman said he had heard talk on his radio of the Chinese coast guard using water cannon.
"I was some miles away when I heard the fishermen calling for help when a Chinese ship used water cannon on them," Michael Lanog, 32, from the coastal village of Masinloc, told Reuters.
China claims most of the potentially energy-rich South China Sea, with overlapping claims from the Philippines, Vietnam, Malaysia, Brunei and Taiwan, and denies charges its actions in what it says is its own territory are provocative. The Foreign Ministry has not commented on the latest accusations.
Philippine President Benigno Aquino has directed the Foreign Affairs and National Defense departments to come up with a response to the water cannon incident, said presidential spokeswoman Abigail Valte.
Philippine and U.S. Marines resumed their biggest combined military exercise in 15 years on Tuesday, a demonstration of Washington's commitment to its longtime ally as it rebalances to Asia.
Not far from Scarborough Shoal, about 750 Marines from the Philippines and United States landed on a beach in two waves using amphibious assault vehicles to retake an island in a mock battle during the largest drills in years in the country.
"This is an exercise," Colonel Doroteo Jose Jalandoni told journalists at a naval base in Zambales province. "We are not looking at other things. We just want to improve our skills and proficiency."
Copyright Reuters 2015.