First Open Hatch Traverse of Northern Sea Route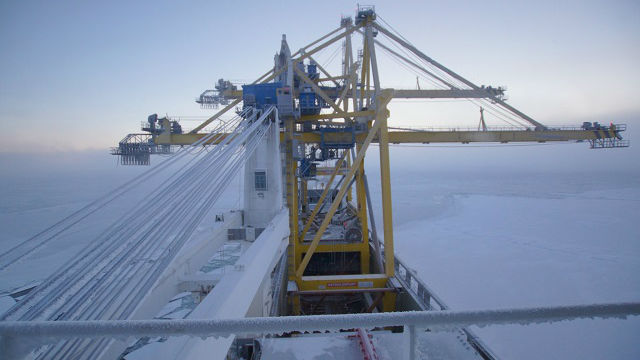 HHL Valparaiso was the first vessel to sail open hatch through the Northern Sea Route when it delivered two giant ship-to-shore cranes from the European to the Far East region of Russia late last year.
The Hansa Heavy Lift vessel was relocating the cranes from the port of St Petersburg to the port of Vostochny. A two-month delay in the cargo being ready meant that HHL Valparaiso had to be repositioned for the voyage, which was originally planned for HHL Tokyo.
The Northern Sea Route is covered by thick ice for most of the year and has a limited window of about two months open to cargo voyages. This allowed the two cranes, each weighing 820 metric tons and measuring 61 meters (200 feet) in height and 92 meters (300 feet) in width, to be shipped partially above and below deck.
The crew had only a few weeks to complete the voyage, as the cargo was loaded in October and had to be delivered to its destination by late November before the route completely froze over.
HHL Valparaiso travelled from Qingdao, China, to St Petersburg via the Northern Sea Route to load the cranes and then went back through the NSR a second time to complete the mission, which was accomplished in record time. The vessel holds Ice Class E3 equivalent to Russian Arc.4 (Finnish- Swedish Ice Class 1A).
During the passage, the vessel had limited connection and only a few points of shelter.
Other challenges included the limited space on board the HHL Valparaiso. Additionally, the cranes were not designed to be lifted, requiring careful planning from all parties involved in the move, as well as strong engineering expertise. Due to the cranes' very high center of gravity at 30 meters (98 feet) above deck and 70 meters (230 feet) air draft, as well as draft restriction of 7.7 meters (25 feet), a careful and detailed plan was needed.
This included a load spreading design and a structural analysis of the hatch covers and lower hold, a lifting stability assessment, a lifting simulation, fulfilment of Flag State requirements (open hatch, visibility, arctic weather conditions, COLREGs), and the approval of the Russian Maritime Register of Shipping, as well as the arranging of ice breaker assistance.
ZAO 'SMM', a manufacturer of heavy port handling equipment in Russia, was charterer of the HHL Valparaiso and in charge of the project.