First LNG Carrier Transits Expanded Panama Canal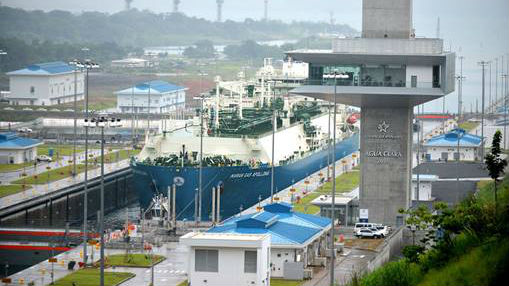 The Panama Canal marked another milestone with the transit of the first LNG carrier through its expanded locks on Monday.
Shell-chartered Maran Gas Apollonia, measuring 289 meters in length and 45 meters in beam, arrived Monday from the Sabine Pass LNG Terminal on the U.S. Gulf Coast.
Panama Canal CEO Jorge L. Quijano says the LNG trade will greatly benefit from the expansion. The Expanded Canal can accommodate 90 percent of the world's LNG tankers, which will have a major impact on global LNG flows and offer numerous benefits to shippers.
For example, with the United States poised to become one of the world's top LNG exporters in the next five years, the Canal will allow vessels departing the U.S. East and Gulf Coast for Asia to enjoy significant reductions in voyage times (up to 22.8 days roundtrip), making U.S. gas deliveries to major Asian importers very competitive. Vessels departing the U.S. Gulf Coast for the West Coast of South America will similarly experience generous time savings.
In addition, LNG ships from the production plants in Trinidad and Tobago could head to Chile where LNG is regasified and distributed for energy-producing purposes. For this route, the Expanded Canal provides savings of 6.3 days in transit time compared to the Magellan Strait.
Providing further advantage, the Canal instituted a new tolls structure to offer substantial cost savings to LNG vessels conducting roundtrip voyages. The new tolls reduce ballast fees for LNG customers who use the same vessel for a roundtrip voyage as opposed to using an alternate route, so long as the transit in ballast is made within 60 days after the laden transit was completed.
In addition to today's LNG transit, 53 vessels have passed through the expanded Canal since its June 26 inauguration, including 22 LPG tankers, 28 container ships and two vehicle carriers. The Canal has already received over 220 reservations from various types of Neopanamax vessels.
The Green Connection Award has been awarded to Maran Gas Apollonia, Shell International Trading & Shipping Company in acknowledgment to their commitment to emissions reductions by using the Panama Canal route and in accordance with its contribution to the protection and conservation of the environment. By transiting the Panama Canal Green Route, Shell-chartered Maran Gas Apollonia contributes to the environment by using a shorter route, reducing CO2 emissions from the shipping industry.