Fire Contained on U.S.-Flagged Maersk Boxship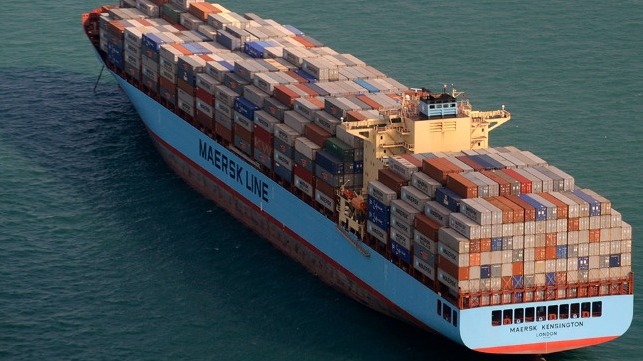 On Thursday night, the U.S.-flagged container ship Maersk Kensington reported a container on fire in a cargo hold while en route from Oman to Suez. Maersk said that the crew reacted swiftly by releasing CO2 into the hold. All 26 crew members are safe and accounted for and the fire is reported to be contained.
The cause of the container fire is currently under investigation. However, Maersk said that an initial investigation indicates there is no link between the cargo in the cargo hold where the fire began on the Maersk Kensington and the cargo in the cargo hold that caught fire on the Maersk Honam.
Maersk Kensington is currently at anchor outside the port of Salalah and is getting assistance from shore. She is carrying about 3,500 containers and 5,000 TEU.
The 2007-built Maersk Kensington is a Korean-built, U.S.-crewed containership in the U.S. Maritime Administration's Maritime Security Program (MSP) fleet. She has been flagged in the United States since 2015.
Maersk Honam fire renews scrutiny of calcium hypochlorite
In 2010 and again in 2015, Maersk Line declared that it would no longer accept containerized cargoes of calcium hypochlorite, a disinfecting and bleaching agent with a tendency for self-ignition. Now, some BCO representatives suspect that misdeclared containers of this compound may have been behind the deadly fire aboard the Maersk Honam, which killed at least three crewmembers and caused untold millions in damage. Maersk said in a statement last week that it is too soon to conclude whether the fire was caused by dangerous goods, and the line is said to be investigating cargo contents and manifests.
If the suspicion turns out to be accurate, it would be far from the first time that calcium hypochlorite was implicated in a marine casualty. Well-publicized instances date back to at least the early 1990s, and in recent years, misdeclared calcium hypochlorite was responsible for fires on the boxships Charlotte Maersk, Maersk Seoul, Maersk Londrina, Barzan, Al Ula, Hanjin Green Earth, Cape Moreton and APL Austria, according to the Standard P&I Club.
According to the insurer, this substance is prone to thermal degradation and releases chlorine gas, oxygen and heat as it decomposes. It can undergo decomposition when exposed to temperatures above just 85 degrees Fahrenheit, or when in the presence of impurities like metal powders or certain organic compounds. "Oxygen will sustain and exacerbate any fire already caused by the decomposition reaction, and gaseous chlorine is toxic via respiration," Standard wrote in a 2014 circular. In addition, calcium hypochlorite is highly corrosive in the presence of moisture.
The guidelines for stowage call for placing containerized calcium hypochlorite away from heat sources, above deck and out of direct sunlight. The limited ventilation in a ship's hold can allow it to overheat if stowed belowdecks. If it is misdeclared, it may be stowed improperly as normal cargo, without the knowledge of the vessel operator or the master.
A 2014 Standard Club analysis of found that misdeclared cargo (of all types) was the second-largest cause of cargo-related incidents. The insurer says that about two million containers per year of dangerous goods are misdeclared as non-dangerous, with potential risks for the ship, the shipowner and the crew. Unfortunately, despite these risks, shippers have a financial incentive to misdeclare dangerous cargo in order to get it on board at low cost. The best way to stop this, Standard says, is by making sure that booking agents perform due diligence on each shipment and make sure that they "know their customers."