Fincantieri Launches the Carnival Panorama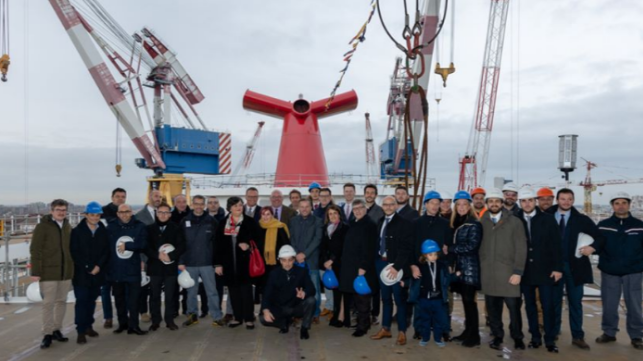 On Thursday, Fincantieri's Marghera shipyard in Venice launched the Carnival Panorama, a sister ship of the 4,000-passenger Carnival Vista and Carnival Horizon.
The family-friendly Panorama will feature several altitude-themed attractions, including a first ever "Sky Zone" at sea, an indoor trampoline park that Carnival describes as a "shrine to soaring." It will also have an aerial bike course dubbed the Skyride on the top deck, along with a more traditional waterworks park.
On Panorama, as on the previous vessels in the Vista-class, the interior design features a themed, private section called the Havana Area, with cabins, open bars and an Infinity Pool. Access to this area is limited during the day to passengers whose cabins are located within it, but open to all after hours. In addition, passengers over 18 will have access to the Serenity Adult-Only Retreat, a sun deck area off-limits to minors.
Panorama will enter service in December 2019, and she will be based out of Long Beach, making her Carnival Cruise Line's first newbuild homeported on the West Coast in 20 years. Carnival Panorama will begin year-round, seven-day cruises to the Mexican Riviera beginning December 14, 2019, departing Long Beach every Saturday to visit Cabo San Lucas, Mazatlán and Puerto Vallarta.
Attendees at the launch ceremony included Carnival Cruise Line SVP Ben Clement, Fincantieri project manager Marco Scaramuccia and Marghera shipyard director Antonio Quintano. Longtime Marghera shipyard employee Antonella Cazzin performed the champagne ceremony as the vessel's godmother.
Fincantieri is the leading builder of large cruise ships, and it has delivered nearly 90 vessels of the type over the past three decades. Over 50 more are currently being designed or built at its many shipyards.