Fincantieri Floats Its First LNG and Largest Cruise Ship Sun Princess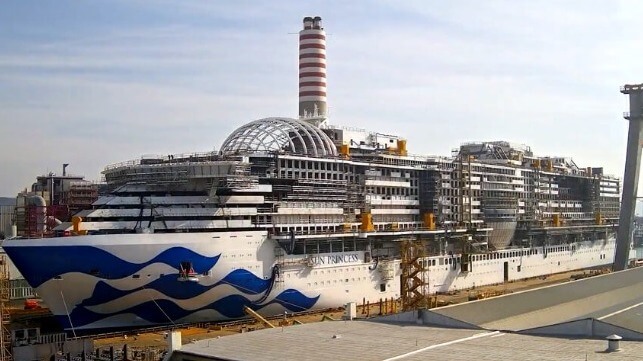 Italian shipbuilder Fincantieri and Carnival Corporation's Princes Cruises marked a milestone in the construction of the new cruise ship named Sun Princess. The ship is not only the largest cruise ship yet built in Italy, but she is also the first dual-fueled LNG cruise ship built by Fincantieri following the lead set by competitors Meyer Werft in 2018 and Chantiers de l'Atlantique which delivered its first LNG-fueled cruise ship in 2022.
After a traditional ceremony at the shipyard in Monfalcone, Italy, the floodgates were opened to the dry dock in which the Sun Princess is being built and the cruise ship was floated for the first time on March 8. The hull was moved from the dry dock to the fitting out basin where the interiors will be built and the ship will be completed before its delivery at the beginning of 2024.
At 175,500 gross tons and 1,133 feet in length, the first of the two Sphere class cruise ships being built for Princess Cruises also becomes the largest passenger ship built in Italy. She will be slightly larger than the two Seaside EVO cruise ships (170,412 gross tons) built by Fincantieri for MSC Cruises and delivered in 2021 and 2022. The Sun Princess will be followed by a sister ship due for delivery in 2025.
At 175,500 gross tons she is the largest cruise ship built in Italy (Princess Cruises)
The two dual-fuel cruise ships for Princess were initially ordered in July 2018 using a unique design developed by the cruise line and Fincantieri. Carnival Corporation was the first to introduce a large LNG-fueled cruise ship in 2018 for its Aida brand and used the same basic platform to build ships for Costa, P&O, and Carnival Cruise Line at Meyer Werft in Germany and Finland. A total of nine of that platform have been ordered with eight of the cruise ships now in service. ]
Meyer has also delivered the first of three LNG cruise ships for Disney Cruise Line while Chantiers delivered its first LNG cruise ship to MSC Cruises. Havila uses LNG for its Norwegian coastal cruise ships and Ponant built an LNG-fueled exploration cruise ship. There are currently 13 LNG-fueled cruise ships in service with DNV projecting as many as 26 by 2028.
The contract for the Princess cruise ships was finalized in March 2019. The first steel cut took place in September 2021 in San Giorgio di Nogaro (Udine) at Centro Servizi Navali, a company specializing in logistics and production of sheet metal for the Fincantieri yards located in northeastern Italy.
Sun Princess is being built with a capacity of 4,000 cubic meters of LNG which will provide for almost nine days of sailing at service speed. It is a dual-fuel ship also using marine gas oil and is propelled by two Azipods. It has four of the largest bow thrusters on the market to aid with maneuverability. The ship will also be fitted with an air lubrication system to reduce drag on the hull and improve fuel efficiency.
#SunPrincess celebrated a milestone with its float out. At the ceremony, we honored Hotel General Manager, Simona Stumberger, as Sun Princess Madrina. On #InternationalWomensDay, this honor is more special and meaningful, as we celebrate her and all the women at #PrincessCruises. pic.twitter.com/A4JJ5QxzRF

— Princess Cruises (@PrincessCruises) March 8, 2023
Princess highlights that the ship will offer passengers an array of new amenities. The design features a large dome that is an entertainment space as well as a three-story main dining room. There are also new dining, entertainment, and activities offerings planned for the ship which enters service in the Mediterranean in February 2024.
The float out comes as cruise ship construction has returned to the pre-pandemic levels at Fincantieri. Last year, the shipbuilder delivered a total of seven cruise ships from its yards in Italy. Cruise ship construction accounted for 68 percent of the group's €5.9 billion in revenues. Fincantieri reported that 16.4 million production hours were devoted to cruise ships in 2022, in line with 2021.
The orderbook includes six smaller, luxury cruise ships for MSC's new Explora Journeys brand as well as five additional ships in the Prima class for Norwegian. In addition to the Sun Princess and her unnamed sister ship, Fincantieri has also started construction on the first of two dual-fuel LNG cruise ships for Germany's TUI Cruises. Last year they also received the order to build a luxury cruise ship that will be used to launch the Four Seasons brand into the business.