Fincantieri Establishes Chinese Cruise Hub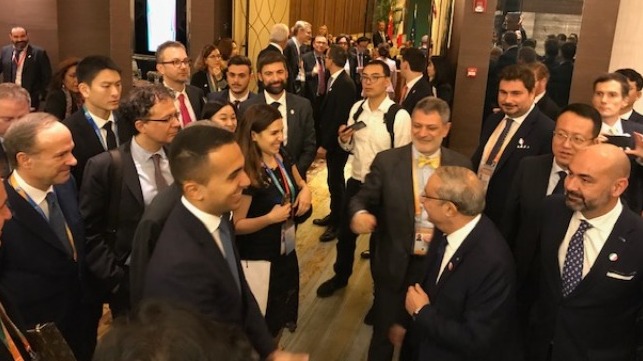 Shipbuilder Fincantieri has officially established a cruise hub in Baoshan, China, focused on its shipbuilding activities in the region.
Fincantieri CEO, Giuseppe Bono, and the District Mayor of Baoshan, Fan Shaojun, signed the contracts for the hub which will initially be used to build the two cruise ships already agreed between Fincantieri, CSSC and Carnival Corporation, the first ever made in China for the local market.
In February 2017, Fincantieri, CSSC and Carnival Corporation signed a binding agreement for the construction of two cruise ships, with an option for additional four, at the Shanghai Waigaoqiao Shipbuilding shipyard. The vessel's design will be tailored for the specific tastes of the Chinese travelers and for the new Chinese cruise brand of the joint venture between Carnival Corporation, CSSC and CIC Capital, which will also operate the units. The first delivery is expected in 2023.
Also in February 2017, the group signed the letter of intent with CSSC and Shanghai City's district of Baoshan for the development of the supply chain mainly dedicated to cruise activities, as well as shipbuilding and maritime, and a comprehensive agreement on ship repair and conversions with Huarun Dadong Dockyard, a leading Chinese shipyard specialized in ship repair and refitting activities, aimed at serving the cruise ships based in China.
The Baoshan district will provide financing, tax commercial and administrative benefits, land for necessary development and other resources. Fincantieri has supported the district in defining the preferential policies to attract suppliers and will promote the park and develop its supply chain.
The project will allow Fincantieri to be a first mover the development of the high potential market, says the shipbuilder, allowing it to further develop its business and access even the most complex markets, at a favorable time in the cruise sector.
In August this year, Fincantieri and CSSC signed an MOU to extend their existing industrial cooperation to all segments of merchant shipbuilding. As well as the cruise ship joint venture, the companies have several research and development projects underway involving the construction of vessels for the oil and gas industry, cruise-ferries, mega-yachts, special vessels, steel infrastructure, marine engineering and equipment procurement.