Fincantieri Delivers Two Luxury Cruise Ships for Viking and Oceania
Fincantieri's Italian shipyards delivered two new cruise ships last week, the first for the company in 2023, both of which are part of the smaller, luxury segments of the cruise industry. The deliveries come as the cruise industry is reporting a strong first quarter, growth in books, and a strong outlook for the summer pear summer season.
Norwegian Cruise Line Holdings, the parent of Oceania Cruises, which took delivery on its new ship the Vista on Friday, April 28, today also reported its first quarter results. It was the first of the cruise corporations to report with Royal Caribbean Group following on Thursday, May 4 with its financial update.
"1Q earnings results that beat expectations were encouraging, especially in light of 4Q's miss and a disappointing guide at the time that severely spooked the market," wrote analyst C. Patrick Scholes of Truist Securities in his first "quick thoughts" note after the report. "Additionally encouraging is the pace of occupancy ramp-up given company-specific concerns around this metric," noted Scholes.
Occupancy for Norwegian's three brands, Norwegian Cruise Line, Regent Sea Seas Cruises, and Oceania Cruises, improved to approximately 101.5 percent in the quarter, exceeding the company's guidance of 100 percent. It compared with 86.6 percent occupancy in 4Q which disappointed investors and an analyst forecast of 99.8 percent occupancy for the first quarter. Norwegian further said, "The phased occupancy ramp-up is expected to be complete in the second quarter at approximately 105 percent," with the company targeting 103.5 percent occupancy for the full year.
While the corporation continues to report losses, it beat estimates posting $1.8 billion in revenue. Gross cruise costs per capacity day, a measurement investors use to look at costs, were down around seven percent versus the second half of 2022. Investors were displeased with the company's high costs in the year-end reports with an emphasis being placed on lower costs. Another key focus is onboard revenue, including the pre-purchases made by passengers before their cruise, which Norwegian reported was nearly 30 percent higher than in 2019, before the pandemic.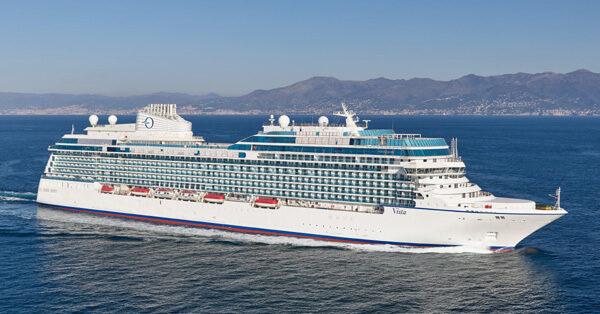 Vista was handed over on April 28 near Genoa (Oceania Cruises)


The delivery of Vista for Oceania is the first of three ships Fincantieri is delivering for Norwegian Cruise Line Holdings in 2023. Vista is 67,000 gross tons and 791 feet in length as the first of two new cruise ships in the company's new Allura Class and the line's first new build in a decade. The line is boasting that the ship has "the most spacious standard staterooms at sea," with a total passenger capacity of 1,200 and 800 in crew, which also gives it one of the industry's highest passenger-to-crew ratios.
"Today we usher in a new era for Oceania Cruises with the delivery of Vista," said Frank A. Del Rio, President of Oceania Cruises. "We could not have built such an exceptional ship without the close partnership enjoyed with Fincantieri. From the smallest of design details to the largest per capita galley at sea, Vista is a marvel that will be enjoyed by guests for decades to come."
Vista was delivered from the Fincantieri Fincantieri Sestri Ponente shipyard near Genoa, Italy, and will be christened on May 8, 2023, in Valletta, Malta. She will spend her summer season in the Mediterranean. After that, she will reposition to Canada and New England before heading south for a series of winter itineraries in the Caribbean, Mexico, and Central America. She will be joined in 2025 by a sister ship named Allura.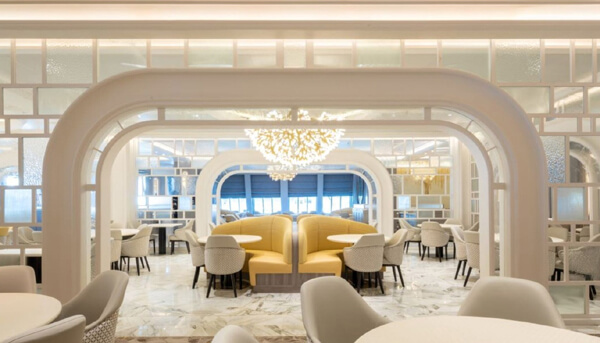 Luxurious interior spaces on the new Vista (Oceania Cruises)
Two days earlier, Fincantieri's shipyard in Ancona, Italy delivered Viking Saturn, the tenth cruise ship built for Viking in the class that was launched in 2015. Viking's strategy is to build identical ships each of which is 47,800 gross tons with accommodations for 930 passengers. Viking Saturn is the last of the original order of cruise ships placed by Viking, which was followed up with six additional ships that will deliver one per year between 2024 and 2027 and two in 2028. The next six ships will be upgraded and revisited with the latest technologies according to Fincantieri. Among the plans is to expand on trials with hydrogen fuel cells.
Viking Saturn began cruising with her naming ceremony scheduled for June 6, 2023, in New York. The ship will spend her inaugural summer sailing two new cruises between New York and Reykjavík, Iceland, and between Reykjavík and Bergen, Norway.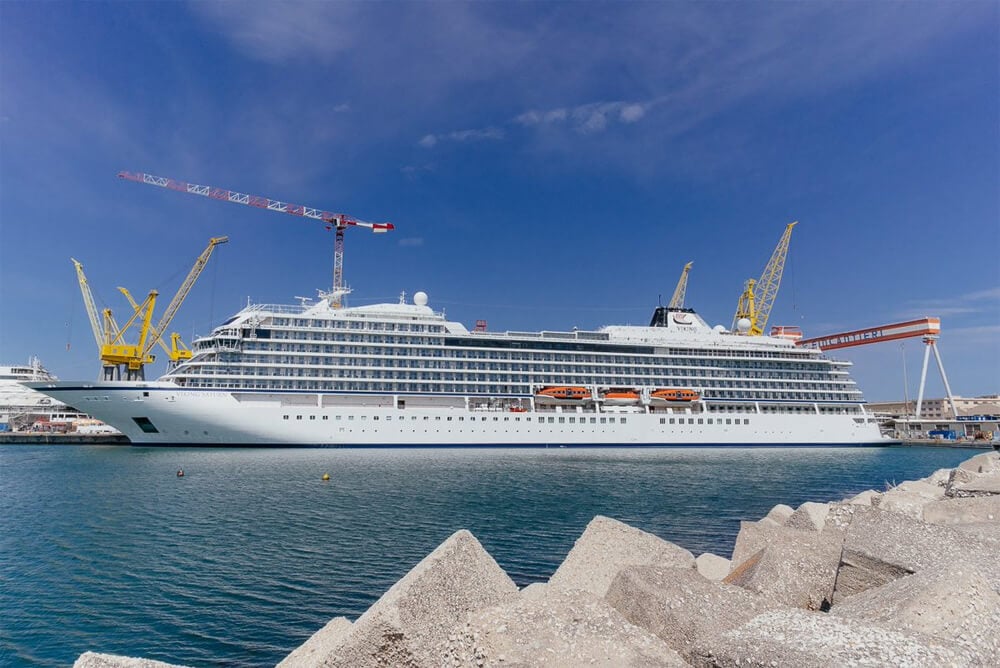 Viking Saturn is the latest in the class which began in 2015 built by Fincantieri (Fincantieri photo)
Since 2020, Viking has introduced 17 new ships to its fleet, including four ocean cruise ships from Fincantieri as well as two cruise ships built by Vard for expedition cruises. The river cruise operation has added eight Viking Longships as well as purpose-built vessels on the Mekong, Nile, and Mississippi rivers.
The delivery of Viking Saturn and Vista are part of six cruise ships scheduled for delivery by Fincantieri in 2023. Two others, Norwegian Viva and Seven Seas Grandeur, are also for Norwegian Cruise Lien Holdings' brands. Fincantieri's schedule projects five cruise ships per year in each of the three next years and five in 2027 and beyond for a current total order book of 20 additional cruise ships.