Explosion Injures Two at Indonesian Shipyard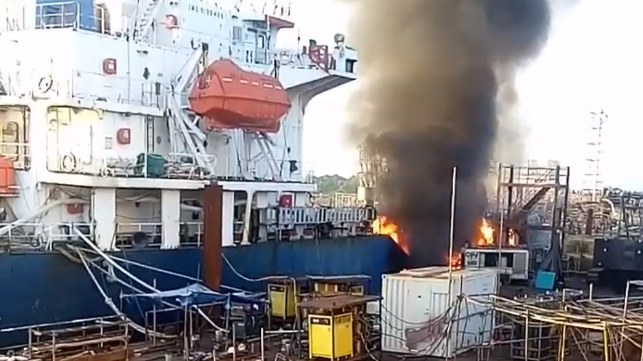 On Wednesday, an explosion and fire occurred aboard a tanker during repairs at a shipyard in the Riau Islands, injuring two workers.
At about 1725 hours Wednesday, welders were at work on a tanker at PT Multi Ocean Shipyard (MOS) on Indonesia's Karimunbesar Island. Sparks from the welding reportedly ignited an explosion, leaving two workers with serious burn injuries.
The two victims were taken to Muhammad Sani Regional General Hospital for treatment. The local police have launched an investigation into the cause of the incident.
The vessel has been identified as the 8,000 dwt Success Eergy XXXII. AIS data show her moored at the yard as of April 18, and a vessel matching her appearance and company livery is visible in bystander videos.
[Audio in Indonesian]
It is the second major accident at PT MOS in six months. Last November, a giant airbag that was being used to move a ship exploded at the yard, sending debris flying, according to bystander reports. Sausage-shaped airbags are a low-cost means of lifting and rolling a ship over land, and are sometimes used for launching newbuilds. Nearly two dozen workers sustained minor injuries in the accident.
Video still from bystander footage of the airbag incident at PT MOS, Nov. 24, 2018 (social media)