Evergreen Invests in Rotterdam and Taiwan Terminals in Growth Strategy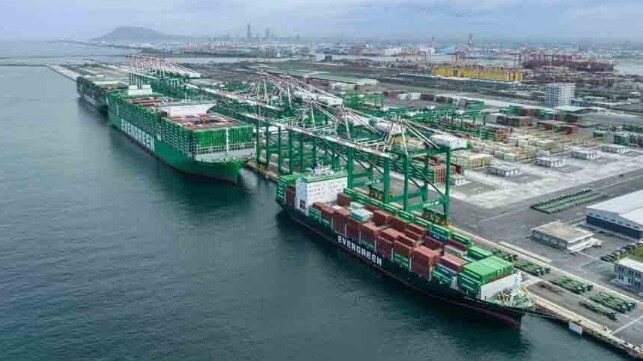 Taiwan's Evergreen Marine has become the latest carrier to expand investments in terminal operations as the next phase of overall growth. The company is moving forward with the expansion of its fleet while at the same time investing in terminals in Taiwan and Rotterdam.
Work with Taiwan International Ports Corporation, Evergreen marked the opening of the new Terminal 7 at Kaohsiung Port at the beginning of the week. The first phase of the terminal was opened being billed as the first and largest fully-automated container terminal equipped with remote-controlled gantry cranes in Taiwan. According to the companies, the new facility is considered to be the most important project that Taiwan's shipping industry has undertaken in years. Evergreen is moving its operations to the new facility consolidating from its prior locations at Terminal 4 and 5 in the port.
TIPC was responsible for the construction of the port infrastructure while Evergreen invested in the operating system and handling equipment. The first three berths at the terminal opened this week with three additional berths due to open in July 2024. When completed, it will have the capacity to handle four 24,000 TEU containerships and two feeder vessels at the same time.
Terminal 7 will feature over 7,900 feet of quay with a depth of 59 feet. The operation will include 24 STS gantry cranes, with 19 that are remotely controlled and 16 that can handle ultra large container vessels with up to 25 rows of boxes on deck. The yard is 368 acres able to store more than 89,000 loaded and more than 43,600 empty containers.
In addition to the investment in the new Taiwan terminal, a stock exchange filing last week confirmed that Evergreen has also acquired a 20 percent stake in Rotterdam's Euromax container terminal. The company paid $78.8 million for its stake and it is believed to be an investor along with operator Hutchison and a Chinese joint venture between COSCO and a private investment fund. COSCO acquired its position in 2016 from Hutchison Ports but transferred its 35 percent stake late last year to the joint venture. Evergreen did not report which company was the seller in its deal.
Evergreen also owns a five percent stake in the ECT Delta container terminal in Rotterdam. The company has other terminal operations in Los Angeles, Oakland, and Tacoma in the United States, the Colon Container Terminal in Panama, Tokyo and Osaka in Japan, in Thailand, and in both Kaohsiung and Taipei Port in Taiwan.
The investment in terminals comes as the company also is moving to expand its containership capacity. In July, they placed an order for 24 methanol dual-fuel container ships valued at nearly $5 billion. Currently ranked as the seventh largest carrier by Alphaliner, Evergreen has a capacity of 1.67 million TEU and has an additional 840,650 TEU of capacity currently on order.