Eight BeiDou-3 Satellites Form Functioning Network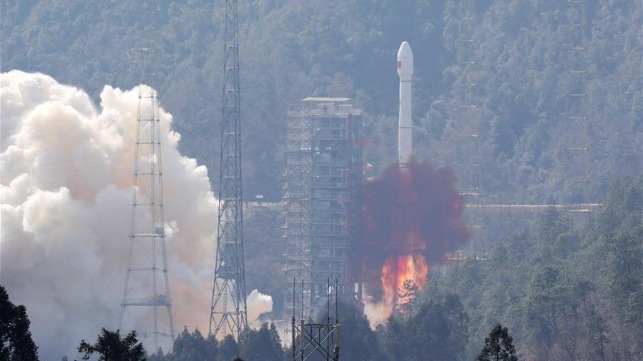 The first eight of 35 planned BeiDou-3 satellites have formed a functioning orbital network with a global positioning accuracy of five meters, according to a spokesman for China's state-owned satellite company BeiDou Navigation Satellite System.
China has launched eight BeiDou-3 satellites within six months, and around 35 satellites are expected to provide state-of-the-art global services upon completion in 2020. This year China aims to launch 10 more BeiDou-3 medium Earth orbit satellites and a geostationary Earth orbit satellite. Another 11 are scheduled between 2019-20: six medium orbit satellites, two geostationary satellites and three inclined geosynchronous orbit satellites.
The global navigation satellite constellation includes GPS (U.S.), GLONASS (Russia), Galileo (Europe) and China's BeiDou, including BeiDou-2. Compared to earlier generations, BeiDou-3 is able to send signals that are more compatible with other satellite navigation systems and provide satellite-based augmentation as well as search and rescue services in accordance with international standards.
The BeiDou-3 system will also coordinate with other technology, such as remote sensing, Internet, big data and cloud computing in the future.
China will have the highest number of satellites over the Asia-Pacific region by the end of 2018 and will therefore provide the best, most stable service, Guo Xinping, CEO of UniStrong Science and Technology, a Shenzhen-listed navigation and positioning company, told the Global Times.
Named after the Chinese term for the Big Dipper, the BeiDou project was formally launched in 1994. It began to serve China in 2000 and the Asia-Pacific region at the end of 2012.