DSME Reaches Shipyard Agreement with ISOICO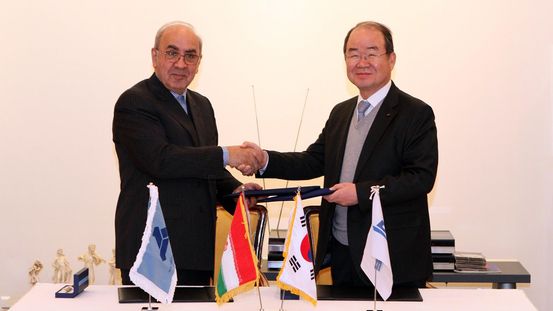 On Thursday, Daewoo Shipbuilding & Marine Engineering (DSME) announced an agreement with the Industrial Development and Renovation Organization of Iran (IDRO) for the transfer of shipbuilding technology.
Under the arrangement, the Iranian government said that it would ask the "Korean Government and DSME to support . . . various sectors including financing and providing of material package [sic]." The deal is a resumption of the 30-year relationship between the yard and its Iranian clients.
IDRO is a subsidiary of Iran's Ministry of Industry, Mining and Trade. Among its many other business interests, IDRO is the parent company for Arvandan Shipbuilding, an offshore yard specializing in smaller aluminum and steel vessels, and Iran Shipbuilding and Offshore Industries Complex (ISOICO), which has the construction capacity for bulkers, tankers and boxships of up to 80,000 dwt.
In October, IDRO also signed a memorandum of understanding with Wärtsilä for a two-phase partnership: in the first phase, Wärtsilä will contribute to the development and maintenace of shoreside power generation infrastructure, and in the second, it will cooperate with IDRO on marine technology.
DSME's domestic competitor Hyundai Heavy Industries has also entered into an arrangement with Iran for technology transfer. Earlier this month, HHI secured a 10-vessel order with state-owned Islamic Republic of Iran Shipping Lines (IRISL), with an additional agreement to "discuss and pursue" cooperation in shipbuilding. Iran's Islamic Revolutionary Guard Corps (IRGC) has sharply criticized IRISL's deal with HHI, asserting that the 10 vessels could be built at the IRGC's own shipyard, SADRA.
Iranian newbuild ordering fell off sharply in 2006 after Western nations imposed economic sactions over Iran's nuclear program. With the lifting of sanctions in early 2016 and the renewal of Iran's oil exports, the nation's state-owned shipping firms are moving to make major upgrades to their fleets for the first time in a decade.