Design of World's Largest Crane Vessel Underway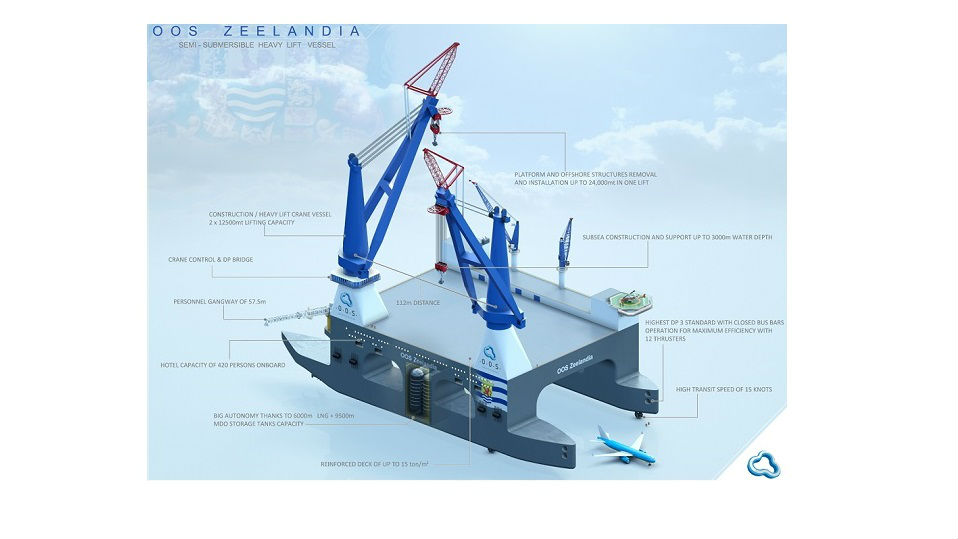 The Dutch firm Holding OOS International Group B.V. has signed an MOU with China Merchants Industry Holdings for the design and construction of the world's largest semi-submersible crane vessel, the OOS Zeelandia.
OOS revealed the OOS Zeelandia during the E.U.-China Blue Industry Cooperation Forum on December 8 in Shenzhen, but confirmed it had already signed the MOU back in July.
The basic design is already in progress, with the vessel suited to platform removal and installation in deep water – up to 3,000 meters (9,800 feet). The ICE Class 1B, DP3, LNG vessel will be able to reach a high transit speed up to 15.4 knots and will have a low fuel consumption due to its ship shaped asymmetric design.
She will be equipped with two cranes with a lifting capacity of 12,000t per crane. The aft crane will be fitted with a 360 degrees rotating DP work bridge where dynamic positioning officers and crane drivers are located next to each other. The vessel will also feature an enormous open deck space for positioning and transport of heavy modules, an unprecedented 112 meters between the cranes and a large hotel capacity integrated in the deck box.
OOS International already has two semi-submersible crane vessels in operation, working on the renovation and maintenance of the production platforms of Petrobras in Brazil. Additionally, in 2016, OOS International signed a contract with China Merchants Industry Holdings for the construction of two new semi-submersible cranve vessels, the OOS Serooskerke and OOS Walcheren, to be used for dismantling, lifting and removal of platforms. Both vessels will be equipped with two heavy lift Huisman cranes with a total crane capacity of 4,400t and a sizeable hotel capacity of 750 persons on board of each. The delivery of these newbuilds is expected in 2019.