Deals Struck at Nor-Shipping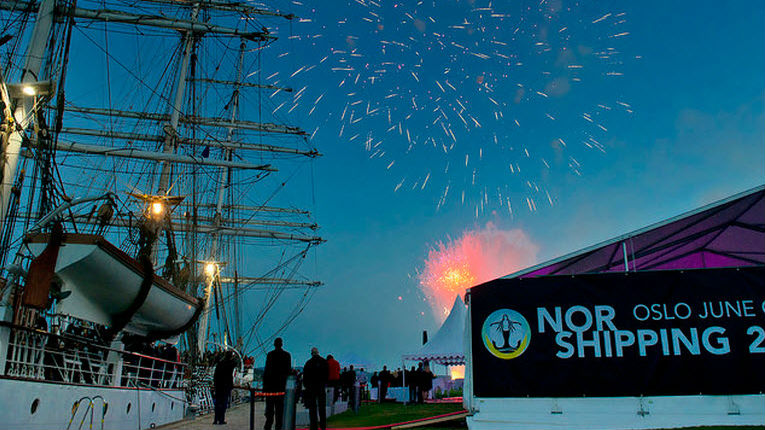 MarEx picked amongst the corporate news to give an update on the key industry deals announced this week at Nor-Shipping.
DNV GL and Jotun
DNV GL and the Norwegian paint manufacturer Jotun signed a cooperation agreement to work on improving hull performance. The project will bring together two performance management services, Jotun's Hull Performance Solution and DNV GL's ECO Insight solution, to collect and analyse data on hull degradation. This will enable customers to cut their fuel bills and reduce emissions.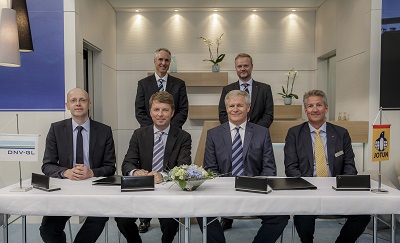 Experts suggest that hull and propeller degradation accounts for up to 17 percent of the world fleet's fuel costs and greenhouse gas emissions. Advanced hull coatings solutions or more regular hull and propeller cleaning are already widely accepted as effective preventive measures. However, there is no conclusive evidence showing which coating solution is the most effective or when and how often propellers need to be cleaned.
DNV GL will provide Jotun with hull and propeller performance computations based on computational fluid dynamics (CFD) models that include the complete operational range of the vessel. "This approach generates a much greater amount of baseline data than a conventional model tank test could deliver and provides customers with the information they need to prove that they reduced both fuel consumption and emissions to charterers for example," explains Dr. Torsten Büssow, DNV GL's Head of Fleet Performance Management.
ECO Insight computations also show how much resistance is added over time due to hull fouling. The portal further provides customers with the opportunity to benchmark measured hull and propeller degradation with other ships in their fleet as well as relevant peer group averages.
NTNU, Kongsberg Maritime, Maritime Robotics and DNV GL
The Department of Engineering Cybernetics at the Norwegian University of Science and Technology (NTNU) is leading a new project that will study collision avoidance for advanced ships. The AUTOSEA project is sponsored by the Research Council of Norway with DNV GL, Kongsberg Maritime and Maritime Robotics as industry partners.
The maritime industry has seen an increasing focus on safety and reliability over many decades. Still the accident and casualty rates are high compared to other industries and numerous studies indicate that the majority of these accidents are caused by human errors. Recent advances in self-driving cars and other autonomous systems have shown that it is possible to achieve a high degree of situation awareness and autonomy using advanced sensor technology in combination with cleverly designed algorithms. Using this type of technology on oceangoing vehicles, while keeping the human in the loop, may be a key in reducing these types of accidents.
The AUTOSEA project intends to focus on automated situation awareness using sensor fusion to reduce the risk of collisions between ships and vehicles when an increased level of autonomy is introduced. To improve detection capabilities also on small objects and better cover the close-range sector, the AUTOSEA project will, in addition to conventional maritime radar, include sensor types not normally used for such purposes in the maritime sector, like camera, infrared and LIDAR.
For the technology to be successful, it will be necessary to resolve conflicts between sensors, and to interpret and support decisions in situations of ambiguity. An increased degree of autonomy on oceangoing vehicles also needs to comply with maritime anti-collision regulations (COLREGs).
The project is divided into four areas: sensor fusion, collision avoidance, system architecture and experiments. Sensor fusion involves detection and tracking of moving objects during navigation and manoeuvring using imaging sensors, while collision avoidance will investigate both proactive and reactive methods. System architecture will consider reliability, handling of erroneous data and adaptation of strategies from the automotive and aerospace industries. Experiments will be used to validate and demonstrate COLREGs-compliant navigation and control and assessing detection capabilities using different sensors.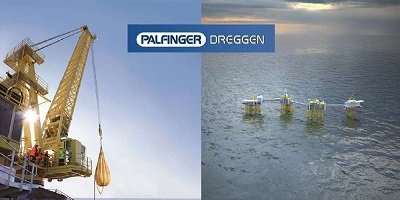 Palfinger Dreggen and Statoil
Palfinger Dreggen has been awarded contract for crane delivery to the Johan Sverdrup field including seven large offshore cranes. The cranes will have a lifting capacity of 60 tons and an outreach of approximately 60 meters and shall be delivered with full-electric drive. The electric drive contributes to both energy efficiency and reduced maintenance. Total lifecycle cost of electric cranes is considered to be lower than conventional electro-hydraulic solutions.
Volva Penta and Callenberg
Volvo Penta has announced an agreement to work on diesel electric projects with Callenberg Technology Group — furthering its commitment to providing sustainable power solutions.
In order to provide fuel-efficient, environmentally conscious products to its customers, Volvo Penta is exploring a host of sustainable power solutions. The agreement provides the framework for how the two companies will run projects and approach the market together.
Volvo Penta and Callenberg, both based in Gothenburg, Sweden, have worked together for many years; as experts in automation and controls, Callenberg has long provided Volvo Penta with electrical components for its marine gensets. But now the two companies will also work together to provide customers with Callenberg's complete diesel electric solutions — powered by Volvo Penta marine gensets.
Callenberg manages onboard electrical energy for a wide range of maritime customers. Instead of burning diesel to produce electrical energy, customers can opt for a more energy-efficient solution — including diesel-electric systems — from Callenberg.
Ahrenkiel Steamship and Imtech Marine
Ahrenkiel Steamship GmbH & Co. KG and Radio Holland Germany GmbH, part of Imtech Marine, have agreed a long-term maintenance agreement for the entire Ahrenkiel Steamship fleet, which comprises nearly 60 vessels.
Based in Hamburg, Ahrenkiel Steamship Group is a leading, independent shipowner and provider of ship management services, with its roots dating back more than 150 years. In April 2014, the Christian F. Ahrenkiel Group merged with a joint venture established by the MPC Group, thereby pooling the fleet of Ahrenkiel Shipmanagement, MPC Steamship and Thien & Heyengathe fleet consisting of container vessels and bulk carriers.
Elkon and Sedef Shipyard
Elkon (Istanbul), a subsidiary of Imtech Marine, has been awarded a contract from Sedef Shipyard (Tuzla, Istanbul) for the delivery of the electrical equipment, propulsion system and services for two Canadian Seaspan hybrid ferries.
The two, 148.9 m, dual-fuelled (diesel and liquefied natural gas) ferries are propelled by a hybrid-electrical propulsion system and can accommodate up to 59 trailers. These state-of-the-art ferries will replace aging vessels and reduce greenhouse gas emissions significantly, while ensuring the highest level of efficiency, performance and reliability.
For these vessels Elkon will contribute substantially to reducing emissions, by being responsible for the design, specification, production and installation of the complete electrical system, including the hybrid electrical propulsion system, battery system and automation system.