Crystal Cruises Cancels SS United States Restoration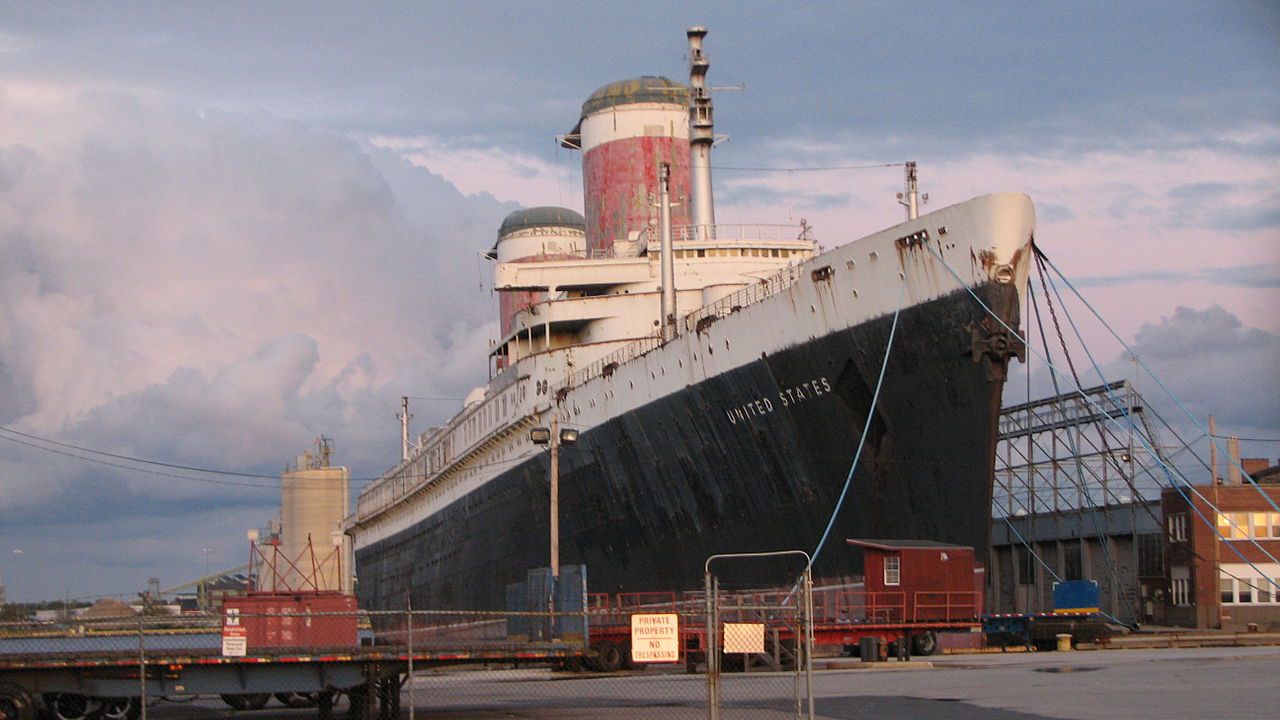 On Friday, Crystal Cruises announced that it has dropped its plans to restore the storied ocean liner SS United States.
The long-dormant liner is managed by a nonprofit heritage organization, the SS United States Conservancy, which has maintained her at a pier in Philadelphia for many years. Crystal and its parent company Genting Hong Kong had contemplated a plan to bring the 1951-built vessel up to modern standards, touting the ship's legal status as a U.S.-built vessel, which could potentially allow her to enter coastwise trade between American ports.
Crystal Cruises and the Conservancy reached an agreement in February in which Crystal would pay the ship's dock fees until a feasibility study for a refit was completed. The $1 million study, led by USCG RAdm. Tim Sullivan (ret'd), found that the work that would be required was extensive and prohibitively costly. Among other challenges, modernizing her propulsion system would have required taking apart and rebuilding about 25 percent of her hull.
"Unfortunately, the hurdles that would face us when trying to bring a 65-year-old vessel up to modern safety, design and international regulatory compliance have proven just too great to clear in both a technically and commercially responsible manner," said Crystal President and CEO Edie Rodriguez.
Beyond the task of restoration, Genting Hong Kong is not a U.S. company, and if it were to buy the ship, it would have legal difficulties operating her between American ports due to cabotage laws. According to the Transportation Institute, a vessel must be "owned by U.S. companies that are controlled by U.S. citizens with at least 75 percent U.S. ownership" to participate in Jones Act trade (in addition to requirements for place of construction, crewing and flag state). RAdm. Sullivan told the Times that his team had consulted with regulators and believed that it would be a challenge to satisfy the ownership requirement.
As a goodwill gesture, Crystal will donate $350,000 to the Conservancy, enough for dock fees and preservation through the end of the year. The Conservancy will continue to pursue the possibility of renovating the vessel as a shoreside shopping and museum complex, among other real estate possibilities.
The group says that Crystal's exhaustive assessment of the ship's material condition – which included a structural study, underwater inspections and tank surveys – would help it to move forward with alternative plans, as it now has conclusive evidence that the ship is in good structural condition.
"We actually think we're really closer than ever to finally saving her for the long term," Conservancy president Susan Gibbs told the New York Times.