COSL Completes China's First Survey in Arctic Circle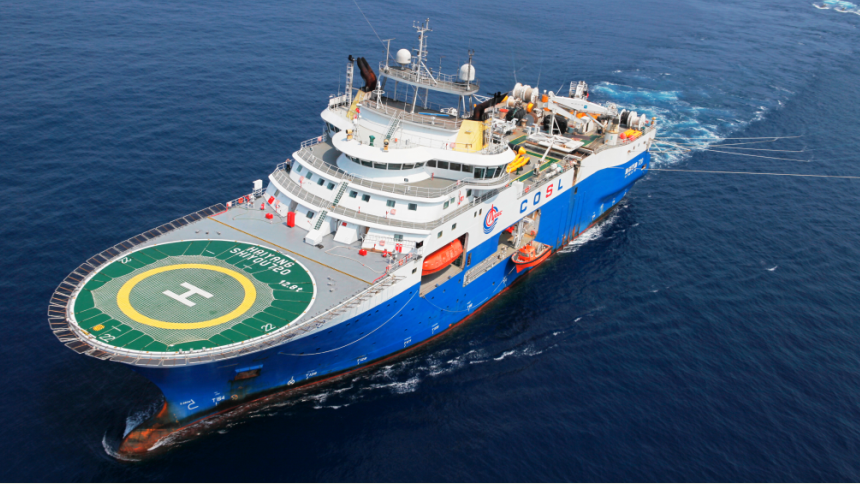 China Oilfield Services Limited (COSL) saw its most advanced 12-streamer seismic vessel HYSY 720 complete a survey of two blocks in the Barents Sea on August 9. The operation lasted for 100 days.
The accomplishment filled the vacuum of China's oilfield services sector in 3D seismic data acquisition in the North Pole, says COSL, and set a new monthly seismic data acquisition record of 1,820.58 square kilometers (703 square miles), a record for China.
The survey took place in the north Barents Sea in the Arctic Circle above the 75 degrees latitude (more than 900 kilometers (560 miles) into the Arctic Circle).
This was the first attempt by China in performing 3D seismic data collection in ultra-high latitude and ultra-low-temperature waters. The achievement marks the successful development of 3D seismic exploration for COSL around the world and is part of plans to domestically developed technology and equipment for participating in oil and gas projects under the One Belt and One Road Initiative.
The operating environment in the north Barents Sea was challenging with glaciers and temperatures of zero degrees Celsius, even in July. The company's operation team manager Chen Zhiwei said: "We have no precedence to follow for this operation in the North Pole. The low temperature operation, the persistent daylight and the narrow window that allowed operation to take place presented unprecedented challenges to team members and the exploration equipment."
The team proactively shouldered their green, low-carbon footprint and environmental protection responsibilities, said Zhiwei. They used low-sulfur fuel oil that met European standards, they protected mammals in Arctic waters and they minimized impact of their operation on the environment.
HYSY 720 is the first deepwater 3D seismic vessel proprietarily built in China. It is the first ocean engineering vessel that meets PSPC standards ever designed and built in China and the first 12-streamer dual-source large-scale seismic vessel in China driven by diesel-electric propulsion system that is capable of sail to Class 1 unlimited navigation zone around the world.
In recent years, COSL has been adhering to its "specialize to become strong" strategy. It is now in processing of integrated technology service capabilities in exploration, development and production at depths of 3,000 meters in waters around the world. COSL is now deriving 40 percent of its revenue from the overseas.
In the geophysical data acquisition segment, as well as the North Pole operation by HYSY 720, HYSY 718 has completed operations in New Zealand and the Far East since the beginning of this year, and HYSY 751 and HYSY 770 are now operating in the Middle East waters.