Container Explodes at Port of Los Angeles' Evergreen Terminal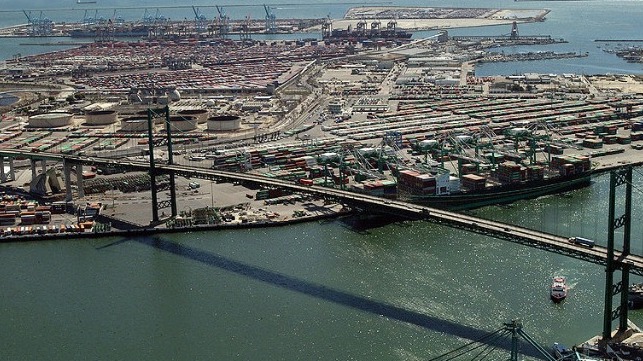 On Tuesday, a container full of scrap metal exploded at the Port of Los Angeles, forcing authorities to investigate the contents of nine similar boxes and to evacuate one container terminal.
The explosion occurred at about 1800 hours at the port's Evergreen Terminal, not far from the base of the Vincent Thomas Bridge. The terminal and several nearby roads were closed and evacuated, but the rest of the port remained open during the emergency response effort.
The Los Angeles Police Department's bomb squad and the LA Fire Department attended the scene. On arrival, they found that the explosion appeared to have blown debris outside of the terminal fence and onto an adjacent road. No injuries were reported.
Photos from the scene showed the wreckage of a blue container mounted on a truck chassis. Officials said that no truck was attached to the load at the time of the blast.
The authorities believe that the blast was an industrial accident, not an intentional act. "Scrap metals which contain some chemicals and some other agents possibly could have led to the explosion," Los Angeles Port Police Deputy Chief Randy Allen told local media. The bomb squad inspected nine other containers in the same consignment to ensure that they did not pose a similar hazard.