Coast Guard Releases Report on New York Kayak Collision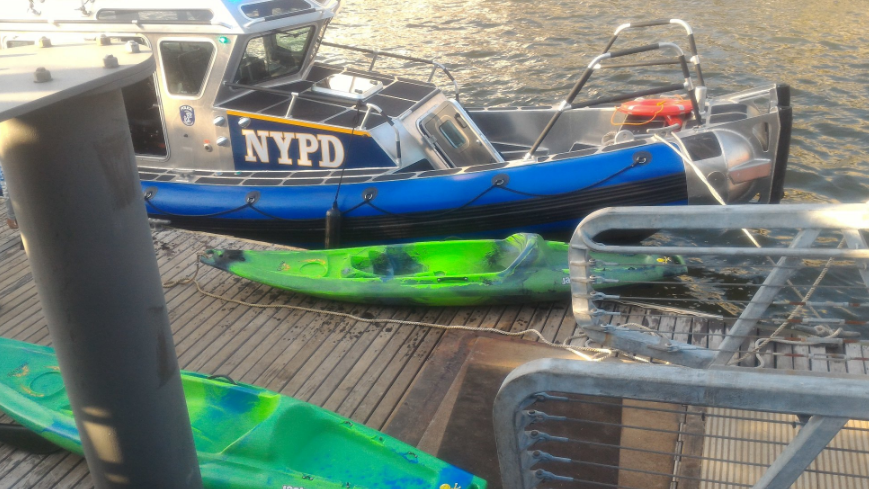 The Coast Guard has released its final report in an investigation into the NY Waterways ferry collision with a kayak tour group last August, which left four injured, including one man with a partially severed arm. The documents, which were requested and first reported by NBC Channel 4 New York, show that the Coast Guard found both the ferry operator and the kayak tour company at fault.
At about 1800 hours on August 30, the ferry Jersey City was backing out of its slip on the Hudson. Despite the evening sun reflecting off the water, the captain did not have a lookout posted on the stern. Meanwhile, nine kayakers were approaching on a guided tour organized by Manhattan Kayak Company (MKC). The kayak tour guide said that the collision happened quickly: "Once I realized it wasn't going to turn, that's when I kind of tried to signal towards it . . . But it all happened in seconds, really," he told investigators.
After the accident, the ferry captain immediately called for assistance. "I just hit a kayaker. So I'm stopped in front of Pier 79. I need the Coast Guard here as soon as possible," he said in a distress call.
The kayak tour guide suffered cuts to the legs and a badly broken arm with bone protruding. "He was lying on top of the kayak and there was a pool of blood," NYPD officer Tommy Le told the AP. A police first responder had to apply a tourniquet to stop the bleeding before the injured guide could be brought to the hospital. "I never thought that something like this would every happen to us," the guide told investigators.
The ferry's captain told the USCG that he did not see the group of kayakers due to glare, and the Coast Guard concluded that he bore a share of the blame: "The vessel captain did not maintain a safe speed or a lookout once the sun glare existed and was . . . at fault in the incident," the final report found. In addition, the Coast Guard said that the Manhattan Kayak Company (MKC) was at fault for "not taking action early in the trip to avoid collision" and for failing to notify ferry operators that they would be running a tour in the area.
In a statement immediately following the accident, MKC said that "all participating kayakers were properly outfitted with safety gear and fully briefed on safety protocols." NY Waterway declined to comment about the Coast Guard's final report because the firm had not yet had a chance to review it, and MKC did not respond to a request to comment from NBC 4.