CMA CGM Takes Stake in Spanish Terminals to Expand Regional Ops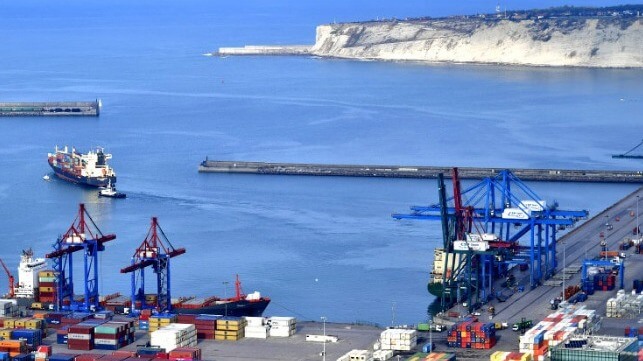 The CMA CGM Group announced that it will acquire stakes in two terminals in Spain as it continues its declared strategy to step up investments in infrastructure to support the growth of its shipping and intermodal operations. With the investments in the terminals located in Valencia and Bilbao, the group reports that it will have almost 10.7 million TEU capacity at its terminal operations across the Mediterranean.
Highlighting the Mediterranean at the crossroads between Africa, Asia, and Europe, the group says the region represents a major area for the development of its maritime transport, port operations, and logistics. They currently have equity stakes in a total of 56 port terminals, including in Marseilles-Fos in France, Tangier, Seville, Malta, Greece, Egypt, and Tripoli in the Mediterranean. The company is also committed to an investment plan to rebuild and modernize the terminals in Beirut, Lebanon after the devastating explosion.
Today's agreement calls for CMA CGM to acquire shares in COSCO SHIPPING Ports (Spain) from TPIH Iberia. Under the terms, they will receive an indirect stake of 49 percent in CSP Iberian Valencia Terminal and an indirect stake of 38 percent in CSP Iberian Bilbao.
CMA CGM highlights that CSP Bilbao is strategically located for connecting Spain with the main ports in Northern Europe. CMA CGM operates its intra-European short sea services by the Atlantic Ocean from the terminal.
CSP Bilbao has a capacity of 950,000 TEUs. The facility encompasses over 100 acres with over 3,700 feet of quay at a depth of nearly 69 feet. It has seven ship-to-shore cranes and is both the leading terminal in the North of Spain as well as a leading location for short-sea containerized transport within the Iberian Peninsula and in South-West France.
CSP Valencia has a capacity of 3.5 million TEU making it one of Spain's largest container terminals. It includes over 350 acres with over 7,500 feet of quay at a depth of over 50 feet. It has 21 ship-to-shore cranes. CSP Valencia is both a terminal for local Spanish cargo and the main gateway to Madrid.
They also highlight that both terminals offer strong intermodal connections and have the opportunity to expand operations through the use of the company's extensive feeder service and intermodal connections. CMA CGM calls the acquisition a strategic move at increasing its presence in the Mediterranean which will also complement its terminals in Algeciras and Sevilla.
Like other leading shipping companies, the group has been moving to increase its terminal operations. Last year, they announced acquisitions of terminals in Los Angeles and the Port of New York/New Jersey. The company is also part of a partnership along with Hutchison Ports and COSCO to expand the operations of the Suez Canal Container Terminal (SCCT) which has operations located near the southern terminus of the Suez Canal and the in western Egypt near Alexandria.