China's First Self-Propelled Floating Dock Operational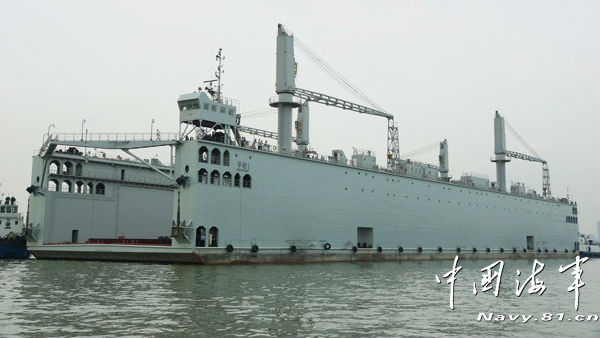 China's first self-propelled floating dock Huachuan No.1 has completed its maiden voyage. The vessel is touted as a major breakthrough by China Military Online as it shifts China's large warship repair from set spots on the coast to mobility far out at sea.
The use of the dock means that ships with minor damage will not have to be taken out of service and those with more serious damage will not have to return to a shipyard.
Huachuan No.1 can provide repair and support for most of the vessels currently commissioned in the People's Liberation Army Navy including destroyers, frigates and comprehensive replenishment ships, submarines, and auxiliary ships under 20,000 tons. It will not be suitable for the navy's aircraft carrier.
The vessel is larger and has greater lifting power than its predecessors and is able to complete repairs in high winds and two-meter (6.6 foot) seas. The floating dock has special repair, electrical, benchwork and mechanic workshops and four stationary hoisting cranes are located to cover lifting operations across the entire pontoon deck.
The failure analysis center on the floating dock is set up with communications systems that will enable those on board to seek advice from shoreside experts if required.
China's first 25,000-ton-class floating dock Huangshan was completed in 1974, and the 300,000-ton-class Dalian and 200,000-ton-class Zhonghai Mount Jiuhua and Zhonghai Mount E'mei followed.