China, South Korea Reach Fisheries Enforcement Deal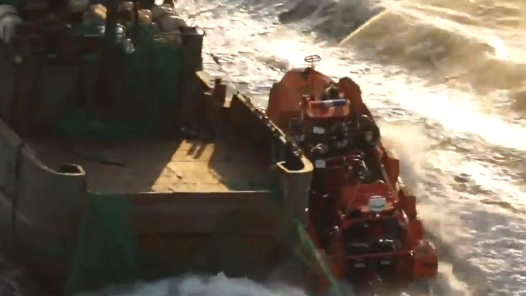 In a long-awaited deal on the management of their Yellow Sea maritime boundaries, China and South Korea agreed on Friday to measures to reduce conflict over fisheries near the North Korean border. Together, the nations agreed to reduce fishing quotas in jointly administered waters, to step up Chinese participation in enforcement patrols and to immediately penalize fishing vessels carrying weapons or anti-boarding equipment.
Over the past few years, Chinese vessels have regularly crossed over into South Korean waters off Incheon to fish illegally, prompting diplomatic protests from Seoul but few penalties from within China. The Korea Coast Guard has fought back with boardings, arrests, vessel confiscation and, following a series of violent incidents, the use of crew-served weapons and firearms. The Korea Coast Guard alleges that Chinese fishing crews often fight boarding teams using improvised weapons, iron bars and hand tools; further, the agency says that some fishermen have militarized their vessels, adding iron spikes to the rails to make it difficult for authorities to come aboard.
There have been casualties on both sides: over the past eight years, at least two Korean law enforcement officers have been killed by Chinese fishermen, and more than 70 have been injured. Among other recent incidents, one fisherman was killed during a boarding off Wangdeung-do in October. Later that month, a Coast Guard speedboat was rammed and sunk by a Chinese fishing vessel, forcing one servicemember over the side. In September, three Chinese fishermen were killed in a fire when a South Korean coast guard crew threw flash grenades into an interior compartment.
Following a series of aggressive enforcement actions by the Korea Coast Guard, China responded positively to Seoul's requests to increase oversight on its side of the boundary. "China will strengthen the management and discipline of our fishermen. We also hope China and South Korea can increase communication on this issue," said Chinese foreign ministry spokeswoman Hua Chunying in November.
China's promise ultimately led to a positive outcome, South Korean authorities said on Friday. "The ministry had demanded active measures by the Chinese government against illegal fishing throughout this year's negotiations," South Korea's Ministry of Oceans and Fisheries said in a statement. "Reducing the fishing quota . . . is also meaningful in that it will help protect the country's resources."