China Rebuffs Vietnamese Criticism of Oil Rig Move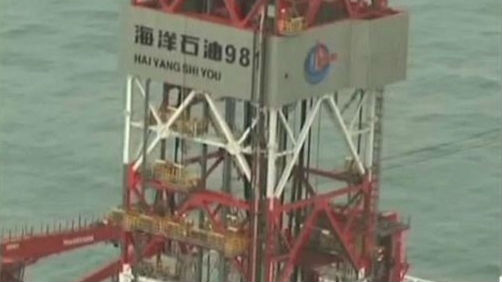 China's Foreign Ministry on Friday rebuffed Vietnam's second demand this year to move a controversial oil rig and drop plans to drill in South China Sea waters where jurisdiction is unclear, saying it was engaging in normal exploration activity.
The $1-billion rig, which was at the center of a fierce diplomatic stand-off between the countries in 2014, had moved into an area of the Gulf of Tonkin over which, Vietnam said, the two countries were still "executing delineation discussions."
"The relevant work is in undisputed Chinese waters, and it is normal commercial exploration," Chinese Foreign Ministry spokesman Hong Lei told a daily news briefing. "We hope the relevant party takes an objective and reasonable view on this."
He did not elaborate.
China claims most of the resource-rich South China Sea amid rival claims by Brunei, Malaysia, the Philippines, Taiwan and Vietnam.
Two years ago, China parked the rig, the Haiyang Shiyou 981, for 10 weeks in waters Vietnam considers its exclusive economic zone, triggering their worst row in decades and an outcry among Vietnamese nationalists.
Many experts call the move a miscalculation by Beijing that played into the hands of the United States. Since the row, Vietnam has become closer to Washington than ever before.
Vietnam closely tracks the movement of the oil rig, which has operated as far away as the Bay of Bengal, and has been close to disputed waters several times since 2014.
Both of Vietnam's protests this year against the rig's activity have coincided with leadership changes in Hanoi.
Vietnam swore in a new prime minister on Thursday and a new president last week. Its previous complaint about the rig was in January, two days before the start of its Communist Party's five-yearly congress.
Vietnam has also criticized China's decision to start operating a lighthouse on one of its artificial islands in the Spratly archipelago, saying it violated Vietnam's sovereignty and was illegal.
Hong said the lighthouse was a matter for China, but it had been built to improve navigational safety for all users of the South China Sea.