China Launches Its First Hydrogen Fuel Cell Powered Vessel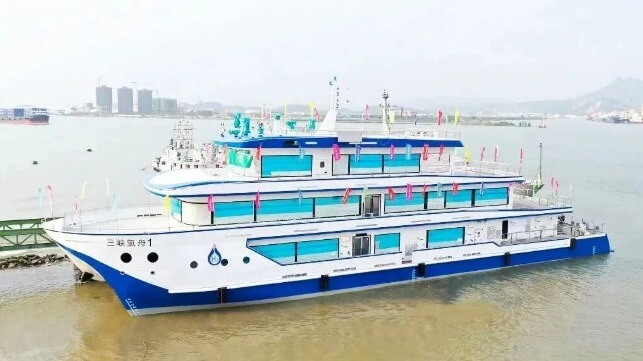 China recently launched its first hydrogen-powered vessel which will be used as a demonstration of the technology and to support the development of the country's fuel cell programs. The vessel, named Three Gorges Hydrogen Boat 1, will operate in the inland area around the Three Gorges dam and follows China's largest electric vessel which was also launched last year for operations in the same region as a demonstration vessel.
Construction on the hydrogen vessel began on May 17, 2022. The design was developed by the Wuhan Changjiang Ship Design Institute working to international standards. The vessel was classed by the China Classification Society and built by Jianglong Shipbuilding. The launch took place on March 17 in Guangdong.
The vessel is 164 feet long with a 33-foot beam. The catamaran hull is built of steel with an aluminum superstructure. Power is provided by a 500 kW hydrogen fuel cell which operates in conjunction with a 1,800 kWh lithium battery system. The speed was reported as 17 miles/hour with a maximum range of 124 miles. The Chinese media is calling it the world's largest hydrogen vessel completed to date. In addition to the emission-free operations, they also highlight the reduced noise levels during operation.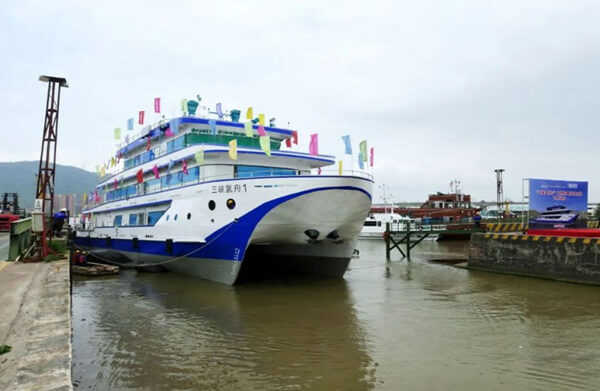 The catamaran vessel was recently launched in China
The vessel will be operated by the China Yangtze Power Company. The Global Times says it will initially be used to provide transportation as well as for patrolling the waters between the Three Gorges Dam and the Gezhouba Dam and in the Three Gorges reservoir. The China Classification society expects that it will provide important data that will support the subsequent development of hydrogen fuel cells. Reports say that the fuel cell market is growing rapidly in China and could reach $1.45 billion in the next few years.
To support the operation of the ship and the development of hydrogen propulsion for inland vessels, the China Classification Society reports that the Three Gorges Group is investing in the construction of shore-based hydrogen bunkering stations.
At the beginning of 2022, Three Gorges Group also took delivery on what was called the world's largest battery-powered river cruise ship. After testing, the report said the vessel would be used for cruises along the Yangtze River in central China. They were also building out a network of electric charging stations along the river to support the growth of battery-powered vessels operations along China's inland waterways.