China Bars USS Wasp from Calling at Hong Kong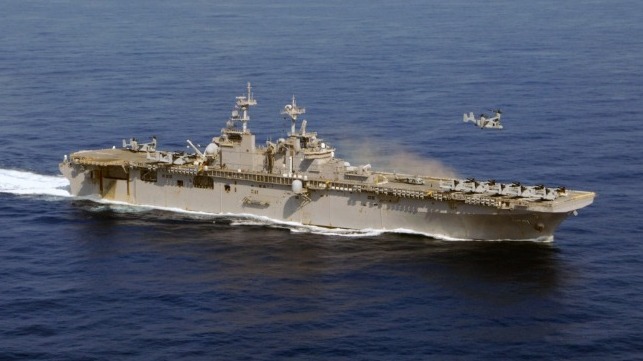 In a sign of the increasing tensions between Beijing and Washington, China has turned down a U.S. Navy request for an upcoming port call in Hong Kong.
According to Reuters, the amphib USS Wasp had planned to call Hong Kong this October but has been denied permission. China's foreign ministry declined to provide the details behind the decision. "The Chinese side reviews and approves such request in accordance with the principle of sovereignty and specific situation on a case-by-case basis," said ministry spokesperson Geng Shuangin at a press briefing in Beijing.
The refusal comes amidst growing disputes between China and the U.S. over trade issues and arms sanctions. The Trump administration has imposed tariffs on approximately one half of all imports from China, and Beijing has instituted reciprocal tariffs on American goods. In addition, the U.S. Treasury Department recently blacklisted China's Central Military Commission Equipment Development Department for doing business with sanctioned Russian entities. The transaction involved China's purchase of advanced Su-35 fighter aircraft and a modern S-400 surface-to-air missile system.
"[These] actions are not intended to undermine the military capabilities or combat readiness of any country, but rather to impose costs on Russia in response to its interference in the United States election process, its unacceptable behavior in eastern Ukraine, and other malign activities," the U.S. State Department said in a statement.
The move led to strident protests from Beijing. Chinese Vice Foreign Minister Zheng Zeguang summoned the U.S. ambassador to China, and he complained that the imposition of sanctions on a Chinese military agency and its officials over their cooperation with representatives of Russia "severely violates basic norms governing the international relations." Zheng described the sanctions as "a blatant hegemonic act."
As a sign of its displeasure, Beijing recalled Vice Admiral Shen Jinlong from an American military conference, the U.S. Naval War College's 23rd International Seapower Symposium.