Children's Book Informs on Container Terminal Operation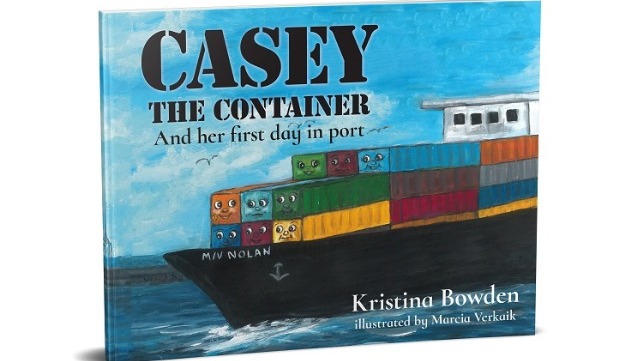 A rhyming children's book follows Casey the Container, a new shipping container, along her journey on her first day in port.
Casey the Container And her first day in port written by Kristina Bowden and illustrated by Marcia Verkaik aims to educate readers of all ages on how containerized cargo makes its way to the United States and into local stores for purchase. It provides operational insight about the movement of containerized cargo and supports science, technology, engineering and mathematics curriculum initiatives.
Casey is a teal colored, standard 40-foot shipping container, and this is her first day on the job. She's nervous and excited because she's embarking on a new journey, one she's never experienced before. Fortunately, a few seasoned shipping containers named Frank and Molly welcome her on board and provide a bit of "on-the-job training."
Casey is a good listener, loves to help others, and is enthusiastic about her work. She experiences the workings of the waterfront and learns the important role containers play in the world. As Casey learns the operational ways of the waterfront, she experiences the importance of teamwork, helping others when they are lost and discovers how much she loves being part of part of this "family that moves cargo every day."
A Southern California native, Bowden always saw the Ports of Long Beach and Los Angeles on the horizon. "I distinctly remember my third-grade field trip to the Port of Long Beach. We came back to class and recreated gantry cranes from toothpaste boxes." In 2003, Bowden graduated from the California Maritime Academy and began her career on the same waterfront she visited as a child. She spent the next 11 years working for one of the nation's largest stevedores, Ports America. "In my time on the waterfront, I had the opportunity to learn from experienced longshoremen and managers. Those lessons resonated with me and are now being shared in Casey's journey."
She's the President and Owner of West Coast Resource Services, Inc., a consulting firm specializing in occupational safety for marine terminals and stevedores.
"As I began writing and sharing the concept with industry peers, feedback was positive," said Bowden. "An experienced Foreman said, 'now we have a way to show kids what we do.' That was a light-bulb moment for me. I realized this book provides a platform for thousands of individuals who work in ports across the world the opportunity to share with their loved ones the work they do. For those who don't work in industry, I'm excited to shed light on an environment unbeknownst to many. People are aware ports exist, but they don't always understand how goods get to the shelves of our local stores."
Published by Twin 20 Publishing, the book is available from Ingram in print or e-book.