CHEC Starts Construction on Panama City Cruise Terminal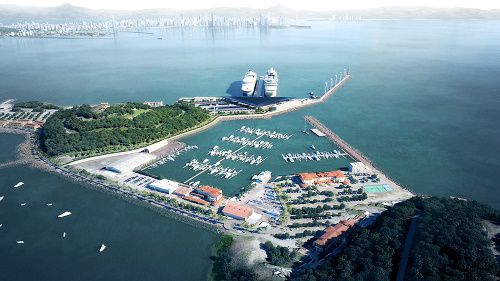 State-owned construction giant China Harbour Engineering Company and its consortium partner Jan de Nul have started construction on the Panama Amado Cruise Terminal, a new, $165 million facility on the Perico Island causeway in Panama City.
CHEC won the bid from the Panama Maritime Authority (AMP) on July 31, about a month and a half after Panama severed diplomatic ties with Taiwan and established ties with Beijing instead. Beijing refuses to recognize any nation that formally recognizes Taiwan, a core part of its "One China" policy.
Previous CHEC projects in Panama include the Port of Balboa Container Terminal Phase 3, awarded in 2002, and Evergreen's Colon Container Terminal (CCT), awarded in 2013. The diplomatic timing was auspicious for another deal, and CHEC said that the bidding for the new terminal project was highly competitive, with interest from over 40 international firms.
"The diplomatic steps we made are bringing very precise benefits to the people of Panama with projects like this where Chinese companies are participating with efficient costs," said Panamanian president Juan Carlos Varela at an event on Thursday, as reported by Reuters.
AMP announced its intention to develop the cruise terminal last August, and it has broader ambitions for the Amador Causeway. The man-made breakwater connects four small islands, and it was built with excavation debris from the original Panama Canal. It was returned to Panamanian jurisdiction along with the canal itself in 1999, and it has seen considerable development since. The causeway and its islands are now home to a marina, a convention center, a Frank Gehry-designed museum and the Smithsonian Tropical Research Institute's aquarium. The Panamanian government recently invested $300 million in overhauling the area's roads and infrastructure to support future development and tourism.